Hillary's Scranton Homecoming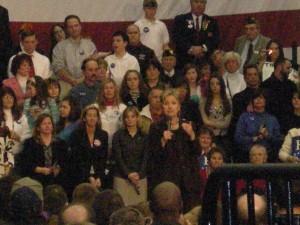 By Amanda Toth
Outlook Editor
The kindness of strangers never ceases to amaze me. And it didn't when I attended the rally held by Hillary Clinton on March 10. When I arrived, I knew my chances of getting inside Scranton High School's 2400-seat gymnasium were pretty slim, judging by the long line outside of the school.
As I walked to the school from where I had parked, I saw a woman, also by herself, so I joked with her I would follow her since she looked like she knew where she was going. She replied that she was joining her husband in line and that she had just parked the car.
The next thing she said floored me. "Would you like to join us?"
And so, my incredible journey began with joining the woman, her husband, and their two daughters in a line that would eventually stretch to reach the entrance ramp of the McDade Expressway on Providence Road.
Two hours, many conversations, and multiple purchases of campaign buttons later, we were nearing the end when we heard someone say there were only 250 seats left in the gym, but they would be showing Clinton via a television screen in the auditorium. At that point, after standing outside in the cold wind, my attitude was, "I'll take what I can get" and I didn't hold out much hope of seeing her live.
This is when our luck got really strange. I recalled something I remember my mom reading in Birnbaum's guide to Disney World: lines to the left move faster than lines on the right. I repeated this, and we got in the left line, and I hoped that I hadn't led my kind hosts astray.
The theory did appear to hold true, as our line began to move faster. Just as I approached the door, I saw police officers cutting off the lines and closing doors on people, starting at the doors on the right, so I quickly moved inside. Only five people after me made it inside the school.
During our time together, we chatted about the election, the last election, and made hypotheses on where Clinton was at that moment, and what our chances were of getting into the gym. One thing we agreed on? Whether or not we made it inside, it was going to be close.
Here we were, standing in line in a cold, windy March afternoon, waiting to see someone who may or may not win the Democratic nomination. But Clinton was not some ordinary candidate. She was Scranton's favorite daughter and thousands lined up to be witnesses to her homecoming.
Unfortunately, I got separated from this kind family at security, where my bracelet set off the metal detector and I forgot to take an extra camera battery and a campaign button out of my pocket. I was somewhat disappointed that I hadn't gotten a chance to thank them, or to at least say, "It was nice to meet you."
My day became even more bizarre when I entered the gym and found an empty bleacher to stand on. I was shocked that there was even an empty one available, much less one right on the floor. I was even more shocked when I realized there were Marywood students in the row behind me, including The Wood Word's Angel Fuller.
If that made the world seem smaller, then seeing my new friend and her daughter waving at me from the balcony made the world seem the size of the head of a pin.
If you know me, you know that I am a huge Obama supporter. Don't get me wrong; I'm still voting for him, but I felt obligated to attend Clinton's rally. I wanted to hear what she had to say and I felt that it was important to support my party regardless of whom it chose to be its candidate.
Plus, it's also kind of cool to say I helped make history. Clinton's stop in Scranton is her first in Pennsylvania, a state she must win in order to keep her nomination hopes alive.
Joining Clinton onstage were Governor Ed Rendell, one of her staunchest supporters, and Lieutenant Governor Catherine Baker Knoll. Like most political speeches, she touched on all her important issues—universal health care, Iraq, and education.
Of course, being that her father was from Scranton, she started her speech by mentioning her affinity for Scranton, and her childhood memories of it. She mentioned such landmarks of Scranton as Old Forge pizza hotspot Revello's, and Tunkhannock's Shadowbrook resort.
The remarks that drew the most noise were related to Iraq, and her plan to begin a withdrawal within 60 days of her inauguration. The crowd especially enjoyed her jabs to George Bush.
Spectators, myself included, enjoyed her reminiscings of the 1990s, the era of her husband's presidency, as a time of "peace and prosperity." She reminded us that the 1990s were a good time for northeastern Pennsylvania and the United States, and that it was only within the past eight years that we "took "a big detour in our destiny."
By far the most popular line of the evening was "It took a Clinton to clean up after the first Bush, and it will take another Clinton to clean up after the second Bush." I personally could not hear the second part of her sentence, as the crowd had begun to roar before the word "and" left her mouth.
Although the rally did nothing to sway my vote from Obama, it was truly wonderful to be a part of such a historic event. Years from now, when children are studying this campaign in their history books, I can say, "You see Clinton's rally in Scranton? I was there."
The enthusiasm was infectious and it was great to see how excited people were. I have never been so proud to be an American.