Parade Day is "Scrantastic"!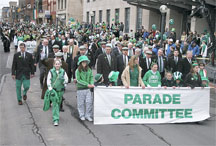 By Lauren Smith
Staff Writer
If you're like me, then you probably look forward to the Saturday before Saint Patrick's Day or "Parade Day" as it is often called here in Scranton. According to the Saint Patrick's Parade Association of Lackawanna County, who has organized the event since 1962, Scranton's parade is the second largest in the country, based on participants per population. The parade typically involves 10,000 people or more making up the floats, dancers, bagpipers, as well as representatives of local organizations, and typically takes place the weekend before Saint Patrick's Day or blessed feast day.
The parade has also been known to attract prominent political figures, such as Hillary Clinton and Ed Rendell at last year's parade, and celebrities such as Andy Buckley, also known as CFO David Wallace from the popular Scranton based NBC show, "The Office." According to the Electric City website, some of the notable participants at this year's parade will be Miss Pennsylvania 2008 Kendria Perry, Ladies From Hell pipe band, and the 28th Infantry Division Band.
Anyone familiar with Scranton can tell you why the St. Patrick's Day parade is so important to Scrantonians, as it is evident in the culture and businesses of the area. There are numerous Irish pubs to be found as well as several Irish organizations and societies such as The Friendly Sons of St. Patrick of Lackawanna County, The Society of Irish Women, and the Irish Cultural Society. Even the media company responsible for Scranton's publications contains an Irish reference in its title, Times-Shamrock Communications. There's no surprise that there's Irish influence on Scranton's commerce as their largest population comes from Irish heritage, according to City-Data.com.
For those not of Irish heritage, Parade Day is equally as significant. "It's become a tradition for me", said senior Sarah Switek, "a time to share with family and friends. It's particularly special to me because I got engaged there last year."
People come from all over the country to attend the parade, as well as those from not so far away.
"I've been to each parade for the last four years", said Wilkes University student Tim Seigfried, "and it just keeps getting bigger and bigger. When people tell me they haven't been there yet, I'm dumbfounded because of how massive an event it is, especially compared to the parade in Wilkes-Barre."
Scrantonians may be familiar with their own parade but most probably don't know the history of the St. Patrick's Day parade itself. Here are a few facts from History.com:
The first St. Patrick's Day parade took place in New York City on March 17th, 1762 with Irish soldiers serving in the English military.
When oppressed Irish began to realize the strength in their large population, they used it to their advantage as more Irish became politically active. Soon, the St. Patrick's Day parades became a fixture for political candidates.
In Ireland, before 1995, St. Patrick's Day was observed as a holy day, until the Irish government decided to capitalize on the popularity of the day to drive tourism. Now, close to one million people celebrate in Dublin, Ireland at their St. Patrick's Festival.
If you missed out on this year's parade, here are just some of the events that you missed. At 10 a.m. there was the traditional mass at St. Peter's Cathedral, followed by the Brian P. Kelly Memorial 5K race at 11:30 a.m. Following the race, the parade proceeded down Wyoming Ave at 11:45 a.m. The streets were painted with green lines and all you could see in Scranton that day was a massive "sea of green."
If you decide to attend next year's "Parade Day" don't forget to wear your green, unless you want to get pinched!