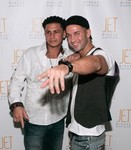 Image by Getty Images via Daylife
By Anthony Castellano
Staff Writer
G.T.L., known by the cast of "Jersey Shore" as "Gym, Tan, and Laundry", is just one of the new catch phrases that has helped propel the show's cast to stardom as the show has become an overnight reality show sensation. Littered with interesting, edgy, and flamboyant characters like "Mike the Situation", "JWoW", and "Snooki", Jersey Shore attracted millions upon millions of viewers all over America. A group of carefully chosen young men and women (from N.Y., N.J., and one from Rhode Island) were put together to spend an entire summer on the Jersey Shore. The Jersey Shore, known for its beaches, dance clubs, hot parties (and for the funny accent of its inhabitants), was surely welcomed by the Jersey Shore crew with open arms.
The first season was replete with partying, drinking, "hook-ups", wild fights, and of course, lots of tanning. However, "Shore" along with its extremely large audience, also faced a whirlwind of controversy from several different public outlets and sponsors. Many of these critics stated that "Shore" negatively stereotyped New Jersey inhabitants, and more importantly Italians. The show glorified "guidos" and "guidets", which apparently represent male and female Italians who dress sharply, take very good care of their bodies, and possess a nice tan. The Shore cast claims that anybody, Italian or not, can be a guido or guidet, and a result the show cannot be stereotyping and misrepresenting Italians.
UNICO, New Jersey politicians, and other Italian-American groups are leading the charge of critical comments from the media. These critics also argue that the Italian cast (even though JWoW claims to not be Italian) is being portrayed in a negative fashion due to many of the vices that the show revolves around, such as drinking, casual sex, and wild fights. They claim that the cast do not live their lives in a respectable fashion and are leading lives that will eventually result in minimal meaningful career success (outside of show business).
I think that Jersey Shore definitely deserves some of the criticism that comes its way, but definitely not as much as it has received. First of all, the terms "guido" and "guidet" are slang terms that cannot even be found in a dictionary, so how are we supposed to take the name and its "supposed" definition (pertaining to Italians) seriously? It is difficult to argue over the definition and meaning of a word that is not even formally recognized by the english language as an actual word.
An ideal example of this is the differing over the meaning of the word by members of the Shore cast and many different media outlets (the critics). I had mentioned the difference of opinion above and since guido and guidet are slang terms, there is no concrete definition.
In addition, the lifestyle that is depicted in the hit reality show is one not unfamiliar to many young people. At the least, this a lifestyle that is relished by many young people in their 20s, whether society would like to admit this uncomfortable truth or not. After all, all the vices of American youth are so ever present in Jersey Shore: hard partying, alcohol, wild sex, and the entire and full experience if the nightlife.
Michael Castellano, an Italian-American student at Marywood University thinks that the show doesn't deserve the criticism that comes its way. "the show only represents a small percentage of Italian people. In the show, they talk about being Italian and things associated with their background, but never portray it in a negative way. It's like Pauly D says at one point in one interview about the show, 'We're just a bunch of young people having fun and enjoying the summer.'"
I believe that these group of Italians (except for JWow, who claims to be German) are just experiencing  what life has to offer, much like others their age. The only difference is that their experiences and "travels" are being played out in front of a camera for the world to see and enhanced by an area that is known for its parties and hot nightclub spots. What goes on in college is similar to what happens in the Shore. Sure, their accents may be different, but that is not their fault.
What we as viewers are seeing is young people having fun and expressing themselves. Only now, they are on television and being broadcast to millions of viewers.
John Aber, an Irish-American student at Marywood University, does find the show to be offensive. "I understand the criticism that follows the show. From my experiences, it's not really how Jersey or Italian people are. The Jersey Shore and everything that happens there isn't quite what its made out to be. Yes, its stereotypical."
This kinds of attention tends to lead people on reality shows to crave attention. This is an extremely important factor in judging the casts' character as well as the show's content. Also, the cast was purposely placed in a the Jersey Shore, which is well known for its nightlife. As a result, all the vices of good old Yankee-youth are promoted in this area. The cast knows what they are supposed to do and experience in the Jersey Shore and as a result, they go through with it.
Despite the show's abundance of criticism and negative feedback from various media outlets, the affects of high ratings is clearly evident. The cast is returning for another season of the show (though it won't be at the Jersey Shore this time) and as long as it continues to attracts an immense amount of viewers, fans shouldn't have to worry about the show being kicked off the air. After the first season ended, all the members of the cast were virtual celebrities and were appearing on extremely popular talk shows ranging from "The View" to "TMZ" to "Rachel Ray."
In conclusion, Jersey Shore, simply put, is a show about young people enjoying themselves and doing what young people usually tend to do, good or bad. The harsh disapproval that accompanies the show will always be there but as long as the show continues to give its young audience what it wants, the show will certainly continue to prosper.
Related articles by Zemanta
Jersey Shore Heads Back to Jersey Shore (nymag.com)