Student reflects on experience at Northeastern U.S. Conference on Disability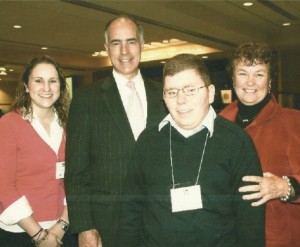 Casey Walters
Guest Contributor
Education, advocacy, and empowerment; these are just a few terms that I have come to associate with in my work as a student intern at The NEPA Center for Independent Living which is now in its new location at 1142 Sanderson Avenue in Scranton.
Advocating for the elimination of architectural, attitudinal, and communication barriers is critical in enabling people with disabilities to fully participate in society and is central to the Center's mission and philosophy.
As part of an ongoing effort to spread its mission and philosophy throughout the community, The Center for Independent Living in collaboration with various agencies, organizations and other individuals joined together to participate in the 9th Annual Northeastern U.S. Conference on Disability which was held in October at the University of Scranton. This year's conference was particularly important as it marked the 20th anni-versary of the Americans with Disabilities Act.
I attended this conference in an opportunity to gain a better understanding and appreciation on the history of the Americans with Disabilities Act as well as the importance and impact it has had and continues to have for people who are disabled. I had also gained a new perspective on the importance of persons with disabilities and their value within society.
Among the various keynote speakers who presented at this conference, one in particular was of special importance. That man was Bob Casey, the Untied States senator for Pennsylvania. In his speech Casey discussed the Americans with Disabilities Act and the impact it has had for persons with disabilities over the past 20 years. He also discussed the need and importance for law makers to be-come more involved in promoting policies concerning persons with disabilities. Along with hearing his speech, I also had the honor and privilege of meeting and having my picture taken with him.
In both attending this conference and in my time spent interning at the Center for Independent Living, I have been able to gain a new and better perspective on persons with disabilities. "Taking the "dis" out of disability"; this is a phrase that I would come to hear frequently thorough out my time in working at the Center for Independent Living.
Throughout my experience in working at the Center, I have come to understand the truth and power in those words. As a society we have come a long way in promoting equality for persons with disabilities yet I believe we still have a long way to go. People with disabilities are valuable members in our society and have a lot to offer. We need to change are way of thinking in terms of what persons with disabilities are capable of. I believe that these conferences such as the one I attended are essential in our continuing efforts to raise awareness for persons who are disabled. By continuing to educate society, we can move one step closer in achieving full equality and integration for individuals with a disability.