Winter freezes commuters
Bob Hannon
Staff Writer
As most are well aware, Marywood recently adopted a new compressed schedule for days with delays. All classes prior to a specified time (generally between 10am and noon) are delayed and all classes are compressed. While this is very beneficial to resident students, commuters generally dislike this new policy.
Imagine this. You wake up and are ecstatic to hear that your morning classes have been delayed. This gives you a sufficient amount of time to get ready and go outside to dig out your car after last night's snowstorm. So you brave the elements for your daily commute to school. For some commuters, the shortened classes hardly seem worth it and many end up skipping class, especially if they only have one.
Winter is a rough time for a commuting student. Some students are traveling from as far as Honesdale and beyond. Life as a commuter is not that bad though. Marywood's Student Activities Crew (SAC, for short) has recently taken the initiative to improve places where commuters gather, such as the Nazareth Student Lounge's Game Room.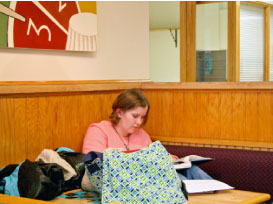 Over the winter break, SAC had a large screen High Definition Television with a DVD player installed in the Game Room and Student Activities even purchased a Wii and an Xbox 360 available to students for rent for a $5 safety deposit. In addition, SAC are also in the process of buying new equipment for the pool table.
These improvements and this attention to commuters improve the students' lives. Prior to these developments, there really was not that much for a commuter to do in between classes. With the rough winter weather, many commuters cannot go home in between classes and since they do not have a room on campus, the new improvements should prove to be beneficial.
Imagine this. You are a commuter student and you have a 3-hour break in between History and English and the snow is coming down in torrents so going home is out of the question. Now you can bundle up with your coffee from Study Grounds, walk to Nazareth and watch a movie or play some video games.
Life  as  a  Commuter  is  pretty  good.