Electronics Extraordinnaire: Phone or "Phablet"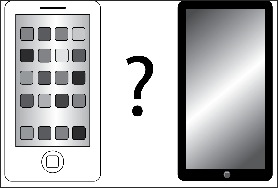 Cell phones have come a long way from the two inch clam-shell-style devices of the past. Apple's iPhone led the way for a near standardization of touchscreens measuring at least three inches diagonally. However, Apple's phone screens can now be considered petite in the shadow of the phablets.
What is a phablet, you ask? Well, it's what it sounds like: an interim cellular device too big to be called a phone, but not big enough to be a tablet.
The term can be traced back to a device released by Dell in 2010 called the "Streak." Tech critics like CNET Senior Editor Donald Bell praised the hardware saying, "The Dell Streak offers an unprecedented combination of processing power, screen size, and design quality.
The device, however, ran a now archaic version of Google's Android OS and the Streak never took off commercially. Only a year later, Samsung released their own bridge for the phone-tablet divide, the Galaxy Note. This device had a five inch screen as well, but was specifically designed to be an interim device, unlike the Streak, which was more of a mini-tablet with phone capability.
The Galaxy Note incorporated a stylus like the PDAs of the past. Critically praised and commercially successful, with Samsung announcing it had sold 10 million of the devices worldwide by August 2012, the Galaxy Note showed that there is room in the market and consumers' pockets for a device of that size.
While the phablet was already in a grey area between phones and tablets, the gap has now gotten even narrower. In November of 2012, HTC released the Droid DNA, a device with the first five inch 1080p display in that size class.
However, at an invitation-only event in NYC, HTC Design Director Jonah Becker said,  regarding the DNA, "Don't call it a phablet. It's a smartphone."
HTC was likely adamant about that fact due to the DNA's lack of a stylus. The 2013 "Consumer Electronics Show" gave the impression that HTC has started a trend, with tech giants like Sony and ZTE also revealing top of the line phones with five-inch 1080p displays.
Here lies the issue. Phones keep getting bigger, and at this rate, they will soon be in "phablet" territory. What was once an interim device may soon be a new standard size for cell phones. So what is the dividing line?
Functionality-wise, a "phablet" has to be more suited for productivity with peripherals like the Galaxy Note II's S Pen. In terms of screen size, 5.5 inches, the screen size of the Note II, has to be the breaking point for cell phones, unless pockets start getting bigger.