To date, or not to date, online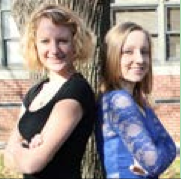 Vikki Hartt
There's been quite some controversy in recent months concerning online dating.
Many have heard about the hoax surrounding college football star, Manti Te'o, and how he found out his online girlfriend was fake. This has been one of the highly publicized displays of online dating, but what the media fails to show are the actual relationships and marriages that online dating outlets can provide and create.
Dating has changed over the years, and some people are too busy to deal with going on several dates to find the "one." Internet dating sites such as Match.com, created in 1995, have changed the way people view dating and the way they are able to both act and present themselves behind the computer. Many online dating services started by matching people based on their profiles and likes and have evolved immensely, now incorporating surveys, pictures, videos, personal blogs, you name it.
According to a report on online dating in the Journal Psychological Sciences in the Public Interest, the main advantage that dating websites provide to singles is the access to hundreds of potential dates, with the click of a button. There are many different online dating sites. Some sites are general and act as platforms for dating, while others can be more unique and cater to specific interests or even races.
For example, there is an online dating portal for vegetarians. It  may sound silly, but  someone may find that lifestyle trait important  in his/her dating life.
According to a study done by Drexel University researchers, one in five Americans finds his or her spouse via online dating websites. Online dating gives people  the flexibility and opportunity to find a person who shares the same interests and at their own convenience. Online dating can be a great platform to jump-start your dating life and a way to potentially meet the love of your life.
http://articles.washingtonpost.com/2012-02-05/lifestyle/35444572_1_match-com-eli-j-finkel-single-parents
http://www.drexel.edu/now/news-media/releases/archive/2012/January/iSchool-online-dating-study/
Kelly Rickert
While there are times when happy couples meet via dating sites, in many cases it seems that online dating is either a profile with a long list of lies, or it leads people to have no chemistry if and when they meet in person.
The biggest problem I find with online dating is how easy it is for people to lie and scam someone who is looking for a legitimate relationship. By never meeting face to face, a person can get away with posting false information on his/her profile. This fake profile can simply include little white lies or could go as far as intentionally misleading someone's love interest in order to gain something.
There have even been numerous cases where the fake persona tries to scam money out of their online love interest. The U.S. Department of State said, "The anonymity of the Internet means that the U.S. citizen cannot be sure of the real name, age, marital status, nationality, or even gender of the correspondent."
Even when scams and lying are not involved, there is no evidence that the process of sorting through a long list of profiles, traits, and characteristics leads to a stronger relationship. In fact, the opposite is often true.
According to the study in the Journal Psychological Science in the Public Interest that Vikki cited, sorting through multitudes of online profiles "doesn't help form strong relationships. Browsing through profile after profile 'can result in the objectification of potential partners.'"
The article also says that the bigger problem is not people lying on their profiles or the laundry list of potential dates; it is that an online profile cannot "transmit the full essence of a human being." According to the study, these websites simply "reduce daters into two-dimensional profiles."
By using an online dating website, you can obtain a long list of potential dates, but I believe  there is no beating a real, personal connection.
For more on the Journal study, see: http://articles.washingtonpost.com/2012-02-05/lifestyle/35444572_1_match-com-eli-j-finkel-single-parents
For more on Internet dating scams visit: http://travel.state.gov/travel/cis_pa_tw/financial_scams/financial_scams_4554.html