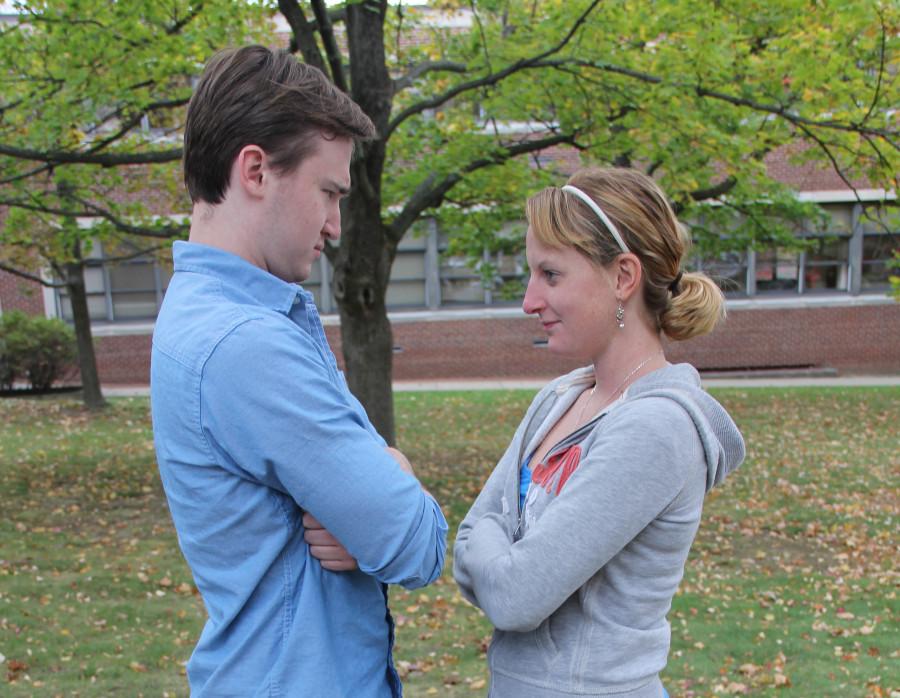 Robert Smith
Want dogs to be allowed to go for walks on campus? You're barking up the wrong tree.
Don't get me wrong. I love dogs, but I also love being able to walk across campus without having to scan the ground in case some poochie left me a present.
I know people are supposed to clean up after their pets, but that rule is based on an honor system that's impossible to enforce. Kind of like having to rewind VHS tapes before you took them back to the video store. (Did anyone actually do that?)
There's always going to be some anarchist who leaves his Chow's chow on the sidewalk, which will inevitably find its way on to some innocent young scholar's shoes.
My stance on small dogs in dorms for companionship is still in no mutts allowed. Oh, how I dream of being able to have a droopy basset hound to guard my room while I'm in class; but then I think, if I have a dog, then everyone will want a dog.
We all know what happens when one dog sees another it doesn't know or like, it's the same thing that happens when an Eagles fan runs into a Giants fan, – it ain't pretty.
Now before anyone starts calling me a heartless animal-hating monster, I have some exceptions to my canine exclusion beliefs.
For one, the blind. A seeing-eye dog is more than a pet or a companion; it serves a medical function. Also, seeing-eye dogs are specially trained and focused animals.
Then there is the issue of therapy dogs brought to campus at least once each semester. These animals offer emotional and psychological comfort to certain patients. I'm wary of taking a side on whether therapy dogs are appropriate for campuses because I am not personally familiar with this treatment. However, in extreme circumstances, I believe a therapy dog, like a seeing-eye dog, has a medical function and should be an exception.
So, for the most part, let's save our campus some trouble. Walk the dog somewhere else, and stick to goldfish as a dorm room pet, assuming its bowl-trained.
Vikki Hartt
Animals serve as some students' companions. They comfort them as they are growing up at home, and while it is healthy to get out of the house and meet new people, leaving your dog at home may not be something students have to do anymore.
More and more colleges and universities are permitting students to bring their animals, including cats and dogs, to school with them. Colleges such as Stetson University in Florida, and Washington and Jefferson College in Pennsylvania have changed their housing and campus rules to accommodate small animals by adding specific animal housing dorms and kennels for the animals to stay in while the students are in class.
This is becoming a trend across the country and serving as an advantage for college enrollment.
Although it's true pets may just be another hassle in students' lives, they can also have positive effects, like helping with relaxation in stressful times. Having a pet on campus is also a way for new students to make an easier transition from home to college life. Thus, bringing a companion from home helps the students interact and connect with other students that have the responsibility of taking care of an animal.
Now don't go thinking these dogs can go free running around campus. Most of the colleges that allow pets on campus have strict rules concerning kennels, designated areas to walk, leash rules, etc. These policies allow the students to bring their animal into a friendly, controlled environment, where they know both they and their pet are safe.
While there are some students that want to bring their dogs to school, others, like me, like to have the opportunity to see dogs around campus. Marywood does not allow dogs to even walk on campus and has recently added various signs stating they are not permitted on campus.
This limits students from seeing dogs on campus, which can sometimes be a nice stress reliever in the middle of the day. Also, prohibiting dogs on campus does not provide a very welcoming atmosphere to the local community and dog walkers. Dog walkers have to plan their routes around Marywood's campus. This is especially inconvenient for people who like to walk their dogs in Crowley Park, the area located behind the Woodlands Apartments.
I think Marywood should reevaluate its strict pet policy to better the university and the surrounding community.