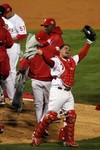 Image by Getty Images via Daylife
By Amanda Toth
Assistant Editor-in-Chief
Am I a sports fan? Sure, I love Penn State football, but that's about it. I must admit, however, that this year's World Series, between the Philadelphia Phillies and the Tampa Bay Rays, interested me.
I wasn't interested to the point where I would watch it, but I did find myself on ESPN's website numerous times throughout the day. I simply find it cool that a Pennsylvania team has made it all the way through the playoffs, especially one that has the most losses in Major League Baseball.
Pennsylvania sports teams have some pretty loyal fans, so it's nice to see the Phillies' fans all pumped up.
"As a Phillies fan, I could not be happier of the outcome" says Shane Ostroski, a freshman. "The Phillies had been the doormat of the National League East for years and years, and the diehard fans really deserved this championship. The loveable losers are now winners."
However, not all Pennsylvania residents are cheering for the Phillies.
"Certainly, the win for the Phillies was big and exciting, but it didn't seem as exciting to me personally being I'm not a Phillies fan" says Marywood alum Chris Barrows. "I was cheering the Rays, so I was disappointed they didn't have a better showing."
Something giving the games extra drama this year was the poor weather. Cold and damp conditions delayed Game 3 for over an hour, and postponed Game 5 for two days.
"As a Phillies fan it didn't really bother me that game 5 was suspended," adds Ostroski. "I actually felt the delay would help the Phillies and it did. The Rays had momentum before the game got suspended and the fresh start helped the Phillies and their fans get back in the game."
But could the bad weather have an adverse effect on the sport?
"The rain delays will be what this particular World Series will be remembered for and that is unfortunate. The headlines should always be created on the field not off it" he weighs in.
He adds, "I don't think the rain delays hurt the interest in the series, if anything I think it helped it. The television ratings for the resumption of game 5 were extremely high."
Barrows disagrees. "The impact the weather had on the series has brought into play a lot of talk of the shortening of the Major League Baseball season and that's the most unfortunate result from the World Series."
No matter which team you pulled for, or if you even paid attention at all, one thing is for certain.
"It certainly was a unique World Series," admits Barrows.