10 Questions: Patrick Diskin
By Christian Wagner
Sports Editor
Who: Patrick Diskin
Year: Sophomore
Sport: Baseball
Major: Health & Physical Education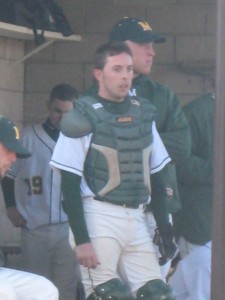 1. Favorite movie:
Rocky, St. Elmo's Fire, Wedding Crashers
2. Favorite music artist:
Def Leppard, Poison, Motley Crue, Ratt, Iron Maiden, Eddie Money pretty much anything from the 80's especially the hair bands
3. Favorite flavor of ice cream:
Ben and jerry's Phish Food
4. Favorite teacher at Marywood:
The whole HPE department
5. Favorite fast food:
McDonalds
6. Hobbies:
Playing baseball, My dogs, Drums
7. Favorite color:
Navy Blue
8. Favorite TV show:
Arrested Development, One Tree Hill, House, MLB Network
9. Celebrity crush:
Ashley Tisdale, Sophia Bush, Jessica Biel
10. Most memorable baseball moment:
Just all the great people I met and all the friends I have made over the years.