10 Questions: Dominique Kozuch
By Christian Wagner
Sports Editor
Name: Dominique Kozuch
Major: Art Education
Position on team: Keeper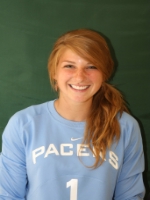 Nickname(s):
Nika & Dom .. nothing fancy!
Favorite band:
Brand New. I've seen them three times and I'll be seeing them again in November.
Favorite actor:
Jude Law because he is super dreamy.
Favorite flavor of ice cream:
Definitely Birthday Batter in a waffle cone with rainbow sprinkles.
Most memorable soccer moment:
During a big game against Western Wayne in my junior year of high school, I slide tackled the number one scorer in the the divison and left her in a leg lock. She got up, spit at me, and kicked me. The referee red carded her! Also, being interviewed for the Fox 56 Highschool Sports Show after our 5-1 win over Dunmore for the District 2 AA title.
Hidden talent(s):
I'm not very talented .. I once ate a whole pack of Oreos in a day.
Favorite class at Marywood?
It's a toss-up between 3D Design & Basic Drawing.
Hobbies:
I love doing anything that keeps me from being idle. I really enjoy nature walks, playing tennis, soccer, and softball, painting, and photography.
Favorite color:
Yellow, but green and orange are runner-ups.
Favorite food:
Oh man, I love eating; it's hard to pick one! I love deep fried pierogies, Caesar salads, strawberries, and fettuccine alfredo.