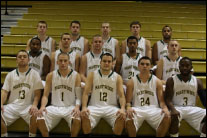 Shane Ostroski
Sports Editor
The Marywood University Men's Basketball Team lost a heartbreaker at Neumann University in the first round of the CSAC Playoffs. The Pacers took a three point lead into halftime but got outscored 42 -34 in the second half culminating in 5 point loss 78-73.
While it was not the way the Pacers wanted to go out, the team should not hang their heads after their successful season. The Pacers exceeded expectations, as they were not picked to even make the playoffs coaches in their preseason poll by the CSAC coaches in their preseason poll. The team finished fifth in the CSAC and knocked off top seed Cabrini College in the regular season, proving that they could not only play with the best but beat the best.
The Pacers also had to deal with some adversity throughout the season. Junior Forward Matt Lepri dealt with a nagging knee injury in the early part of the season limiting his minutes and production. Junior Point Guard Jimmy Lavan then suffered a season ending ankle injury hurting the team's depth.  Even with the injuries the Pacers still managed to make the post-season for only the fourth time in the program's history. A major contributor to the team's stellar second half play was Jacques Robinson, who rejoined the team after Christmas break. The speedy Robinson gave the Pacers another scoring threat, while taking over at Point Guard once Lavan went down.
Story continues below advertisement
Three seniors also led the Pacers: Lenny Martin, John Foreman and Tyler Reinhard. Martin finished the season leading the team in assists and rebounds. Foreman led the team in scoring, averaging 10.5 points per game. Reinhard shot an impressive 39% from 3-point land, making a team high 58 three pointers. While it will be difficult to replace the three seniors there is plenty of talent coming back. Brent Keyes, Tyrek Coleman, Lepri, Lavan and Robinson are all set to return. Keyes finished third on the team in scoring, averaging 7.2 points per game. Coleman averaged 6.7 points per game at the Point Guard position. Lepri finished second on the team in rebounds, while adding 7.2 points per game. Lavan averaged 4.7 points per game before his early end to the season. Robinson averaged 8.9 points per game, and ended the season second in assists.
One concern heading into next season is the team's depth at the Center position. The Pacers will only return Tim Mullen at the position, which will surely be Head Coach Eric Grundman's main focus during his recruiting efforts. Brent Keyes already has his focus on next season. "We know that we have to work harder this off-season because we want to accomplish our goal of winning the CSAC championship and take this program to new heights."