Pacers Into CSAC Semi Finals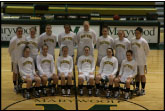 Shane Ostroski
Sports Editor
Marywood University Women's Basketball Team, under the direction of Head Coach Tara Macciocco, has produced a record setting year on their way to winning the CSAC North Division and earning the number two seed for the CSAC Playoffs.
The Pacers have tied their record for most program wins in a single season with 19. The team finished the regular season with a 19-6 record while boasting an impressive 13-3 record in conference play. The Pacers finished the regular season with an 87-78 win over Centenary College, which cemented their number two seeding and earned the team a bye for the first round of the CSAC Tournament.
While the familiar faces of Mariah Schaeffer, Marielle Thorsen, and Lauren Rogan have continued their successful careers, newcomers Allison Bruet, Alysa Mayo, Jamie Halloran, Brittney Mang, Carly Leitzel and Megan Nastelli have sparked the team and have become an integral part of the Pacer's success.  Bruet, a transfer from Broome County Community College, is the team's primary point guard. Bruet averaged 9.4 points per game in the regular season and led the team in steals on the defensive end. Mayo and Halloran have added much needed depth inside.
Mayo compiled 16 blocks in the regular season and has been a big help on the glass. Halloran averaged 9.5 points per game while leading the team in blocks with 17. Mang, Leitzel and Nastelli are the leaders of a talented freshmen class. Mang is one of the team's best defenders. Mang finished third on the team in steals with 36 and averaged 5.1 points per game. Leitzel accumulated 100 rebounds and averaged 4.4 points per game.
Nastelli has added yet another 3 point threat for the Pacers. Nastelli connected on 15 three pointers while shooting over 50% from behind the arch. The Pacers have showed character this season as the team gelled quickly even with over half of their roster new to the program. "This is the best team I have ever played on. We are close on and off the court and have formed a strong bond. We have come together as a team," said Bruet.
While the team has already achieved great success on the court this season, the Pacers are not content. "We have a lot of potential and I feel we have yet to peak," said Shaeffer. The Pacers know with playoffs just around the corner, the time to
peak is now.