Joe Paterno 1926 – 2012: Mistake shouldn't alter legacy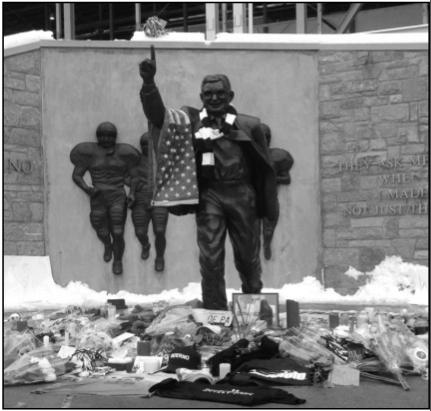 Joe Paterno passed away January 22 in a State College hospital after a battle with lung cancer at the age of 85.
His death is just another sad chapter affecting Penn State within the last six months due to the ongoing allegations of sexual abuse by former assistant football coach, Jerry Sandusky.
Those allegations and the lack of action ranging from Paterno to former President, Graham Spanier, eventually led to Paterno's dismissal, ending one of the most successful college football coaching careers ever.
But instead of talking about the last six months, lets talk about the legacy known as Joe Paterno.
JoePa, as he was affectionately known, became Penn State's Head Coach in 1966, after serving several years as an assistant for the Nittany Lions. It did not take long for Paterno to make an impact on the field. In just his third season at the helm, the Nittany Lions went a perfect 11-0 and followed up the next season with another undefeated as well.
In 1973, Paterno secured another undefeated season, but he still hadn't claimed the top prize, a national championship.
In 1982, the wait was over as Paterno won his first national championship. Just four years later, the Nittany Lions defeated the Miami Hurricanes for their second national title.
Just a week before Paterno was forced out, he became the head coach with the most wins in Division 1 football history, recording his 409th career victory.
During Paterno's forty-six years as head coach, he received many coaching offers from other schools and even NFL teams, but they would all eventually be turned down. Paterno actually accepted an offer from the New England Patriots in 1972 to become their head coach, but weeks later he changed his mind to stay at the school he loved.
While his accomplishments on the field are impressive, it was the accomplishments off the field that made Paterno beloved. JoePa made sure his program was run the right way; education was top priority, football was second. During his tenure, Paterno coached numerous Academic All-Americans and Penn State was continuously among the leaders in graduation rate of football players.
Paterno also continued to give back to the institution that gave him the opportunity to become a head coach. Over the years, Paterno donated more than $4 million back to Penn State, with a majority of that money used for renovations to the library, which now bears his name. Even while many people continue to question the way Paterno's firing was handled, Paterno and his wife, Sue, donated $100,000 just weeks after his dismissal, according to The New York Post.
There is no doubt in the court of public opinion, Joe Paterno should have done more and reported whatever he knew about the alleged incident that took place in a football locker room. While many Penn State supporters are not happy with Paterno's termination, I am not here to debate the Board of Trustees' decision. For me personally, I am choosing the eighty-four and a half years of Paterno's life to judge his character, not the last six months. In no way am I condoning any of the actions of any Penn State official in connection with the scandal, including Paterno.
Before the scandal, JoePa was seen as a man who could do no wrong. He stood for everything that was right in collegiate sports and even life. Paterno may not have even known he made an error in judgment, but it is unfair to completely condemn a man who has done so much good.
Joe Paterno has not only been the face of a college in Central Pennsylvania, he became the face of the whole commonwealth. While organizations clamor to take his name off of trophies named in his honor, and remove him from consideration for various awards, Paterno is no longer here to defend himself. Don't worry Joe; there are still many people who will remember you not only for your success on the football field, but for your immeasurable contributions off it.