Track and Field proves it can go the distance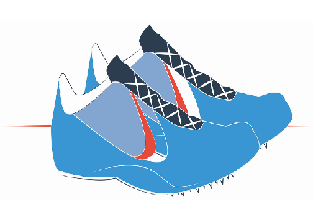 For the first time in Marywood history, both men and women's track and field have achieved NCAA Division III status. Since officially becoming a program, both men and women have competed in a number of meets throughout the country, with promising results.
During the Walt Disney World Track & Field Open in Lake Buena Vista, Fla. the women finished third out of 14 teams while the men ranked in at eighth out of 16.
At Widener University's Jim Curran Invitational in late March, the women's track and field took on regional opponents of the NCAA Division III for the first time. The Pacers concluded with four Top 10 finishers at the competition.
At the Curran Invitational hosted by Widener University, the men's track and field had two Top 10 placers as well.
In the inaugural season at the varsity level, both men and women have surpassed expectations and competed at a high level.
Jude Saforo, a senior architecture major, says that both teams have already established a strong sense of teamwork as well.
"The teams are doing very, very well. It's incredible to see everyone pushing forward and doing what they have to do," said Saforo. "We all have a mentality of focus and we all share the same mentality, which you need to establish teamwork. Everyone is like a family."
Thus far, both men and women's track and field have held their own among a variety of competitors. As Marywood continues to perform well as a team, many players are also excelling past personal records and landmarks.
In the past two months, Marywood's Pacers have competed in the 400 meter relay, heptathlon, decathlon and shot put for the first time in program history.
So far this season, Kurt Kimsey, a junior architecture major, has competed in the javelin, shot put and discus. In the discus, Kimsey completed a throw of over 40 meters, which surpassed his own personal record by just under five meters.
"For the remainder of the season I hope to break a few more of my own personal records in the javelin, shot, and disc," said Kimsey.
Kimsey continued to discuss what he hopes the team can accomplish as they continue to compete.
"As a team we are striving to have as many athletes as possible compete in the [Colonial States Athletic Conference] and [Eastern College Athletic Conference] meets at the end of the season and even look to qualify for Division III National Championship meet," said Kimsey.
Contact the writer: [email protected]