COMMENTARY: Equality in tennis still not here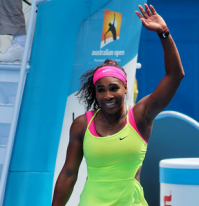 On March 20, Raymond Moore, CEO of the BNP Paribas Open at Indian Wells, California, spoke critically of the Women's Tennis Association (WTA), saying their players "ride on coattails of the men" and that "they don't make any decisions and they are lucky."
As if he had not buried himself deeply enough, Moore continued, "If I was a lady player, I'd go down on my knees and thank God that Roger Federer and Rafa Nadal were born, because they have carried this sport."
I'll borrow a line from Mike Greenberg on Mike & Mike: Let's get this man a glass of shut up.
Firstly, let's start with a little fact-checking. According to The Atlantic, the U.S. Open women's final last August sold out before the men's final for the first time in history. That in and of itself says a lot about the popularity of the WTA and its prolific athletes.
Furthermore, I do not need to mention the likes of Serena Wiliams, Victoria Azarenka, and Maria Sharapova, the latter's recent drug scandal aside. These women are household names to many sports fans, and likely even to some people who just pick up a newspaper every now and then.
Let's address Moore's language as well. His use of the word "lady player" ought to leave a gross taste in all of our mouths. It is antiquated at best, condescending and misogynistic at worst. I also find it hard to believe that these women "don't make any decisions" when they have so many different sponsorships of their own.
As for his remarks to get on their knees, regardless of the indication to do it for prayer, Moore might do well to think far more carefully than he does before he speaks. Or he might just want to avoid the topic of women's sports altogether.
The most harrowing aspect of his remarks was the absolute level of confidence with which he said these awful words. Whenever you thought he might finally finish and stop the bleeding, he reopened the wounds with a more agonizingly stupid remark than the previous one.
Moore has since stepped down from his position, but the sentiments he expressed are unfortunately not only held or shared by just him.
While I cannot provide a solution beyond learning facts, opening one's eyes, and living in the 21st century, I do believe we are at least striving for job and gender equality in sports and society.
The public dismissal of a man like Moore was entirely appropriate, and it may prove productive. At a time when equal pay continues to be an issue very few in Congress seem inclined or equipped to solve, the national recognition on every major news outlet, sports or otherwise, that this issue has gained is a step in the right direction.
If we can continue to have more people in front of microphones who embrace a far better reality than the one espoused by Moore, we may finally get some more equality.
Contact the writer: [email protected]