2021 World Series Prediction
With the 2021 MLB Playoffs coming to an end, we are down to just two teams, ready to compete for it all in the World Series. Emerging from the American League was the Houston Astros, while the Atlanta Braves were crowned champions of the National League. I think this has the chance to be an all-time great World Series, and one where fans around the world will be watching closely. Here is a breakdown of who I think will win the 2021 World Series.
Houston Astros
The Astros came out of the American League as champions after defeating the Chicago White Sox in the ALDS and the Boston Redsox in the ALCS. This team had a lot of ups and downs in each series, many surrounding injuries to their pitching staff. Both their rotation and bullpen were inconsistent, either playing exceptionally well, like Framber Valdez against the Redsox in Boston, or extremely poor, like Luis Garcia against the Redsox in Houston.
The one part of the team that has been consistent though has been their bats. The Astros have been red hot this playoffs run. The offense is being led by Kyle Tucker, Carlos Correa and ALCS MVP Yordan Alvarez. Alvarez especially has been tremendous, batting over .500 in the ALCS. Overall, this is a tough team to beat, and I think they are going to want to prove something to the world after the cheating scandal just a few years ago.
Atlanta Braves
The Atlanta Braves are many people's sentimental favorites for many reasons this year. They defeated the Milwaukee Brewers in the NLDS, but the more impactful win was against the Dodgers in the NLCS. This Braves team just has something about them. They are in the World Series without their superstar outfielder Ronald Acuña Jr. I think this team is special because they are just so well-rounded with a bunch of "dogs" that do their job and do it well.
Whether it be their young pitching staff led by rising stars Max Fried and Ian Anderson, or their midseason acquisitions like Joc Pederson and Eddie Rosario, someone always just shows up when it matters. To focus on Rosario, he had a historic NLCS batting over .500 with a walk off hit in game two. No one is hitting the baseball better than Rosario right now.
I really think this will be an incredibly competitive series. Both teams are also going to desperately want to show why they deserve to be champs, but when it is all said and done, I think the Atlanta Braves will be the 2021 World Series Champions. As I said, there is just something about this team that is special. They defend well, they pitch well, they hit well and most importantly they never doubted they were out of contention to be in the World Series. In addition to this, they have not been in a World Series since 1999, so these players could go down in Braves history with a big win this year.
Overall: Braves win in 7 games.
World Series MVP: Freddie Freeman
Contact the writer- [email protected]
About the Contributor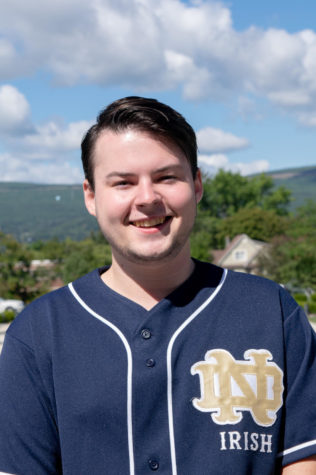 Max Burke, Sports Editor
Max is a Sophomore Multimedia Communications major with a concentration in Sports Media. He currently serves as Sports Editor for The Wood Word and a DJ...