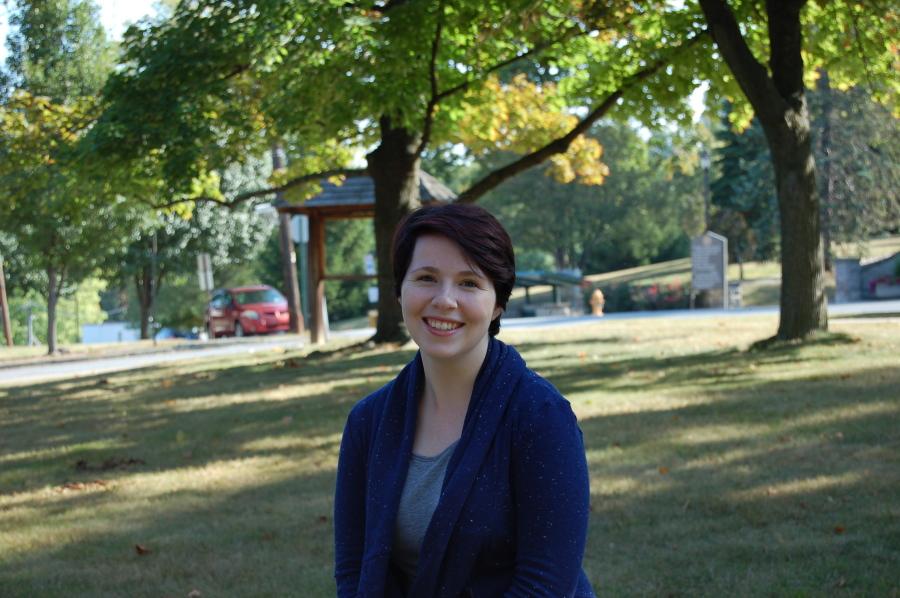 Brigid is a junior, Journalism/ Digital Media  major, and is the Multimedia Editor for
The Wood Word.
She has been on staff since her freshman year and is excited to take on this new role in the realm of visual journalism. She has a mild coffee and iPhone obsession. One of her life goals is to become "Twitter famous." As both a journalist and a typical college student, she is an avid social media user
. She writes a personal blog in her spare time that highlights some of the crazy thoughts she has about current events and different things that go on in society. Her favorite invention is pizza. While she has dabbled both in print and visual journalism, she is hoping to marry the two for her professional career. She is the News Director at TVM News and hopes to one day be a producer on a news program. She is also a sister of Marywood's sorority, Zeta Phi Delta. In her spare time she enjoys yoga, Netflix binges, and cheese. She loves cheese.
Brigid Edmunds, Multimedia Editor
May 02, 2016

BREAKING NEWS: New Board members elected; interim VP of Business Affairs named

(Story)

Apr 24, 2016

BrigEats: Chicano's: Delicious, authentic Mexican food

(Story/Media)

Mar 19, 2016

Dr. Levine to step down as VP of Academic Affairs

(Story)

Mar 14, 2016

He said, she said: Should political parties exist?

(Story)

Mar 02, 2016

AAUP units criticize faculty cuts

(Story)

Mar 01, 2016

BREAKING NEWS: Admins cut ten first-year faculty

(Story)

Feb 15, 2016

Policy committee revises severe weather policy

(Story)

Jan 29, 2016

BrigEats: OTOWN Craft House: A new staple

(Story)

Nov 15, 2015

BrigEats: Alfredo's Pizzeria: a South Side classic

(Story)

Oct 28, 2015

UPDATED: SGA takes budget concerns to Board of Trustees

(Story)

Oct 20, 2015

Faculty vote "No Confidence" in Sister Anne and Joe Garvey

(Story)

Oct 18, 2015

Faculty Development budget cut, guidelines changed

(Story)

Oct 18, 2015

Enough excuses: Finish the Comm Arts facilities

(Story)

Oct 18, 2015

Roma Pizza's new location offers same great taste

(Story)

Sep 24, 2015

Students return to dorms, threat still under investigation

(Story)

Sep 20, 2015

BrigEats: Smiler's Grill & Bar

(Story)

Sep 11, 2015

Faculty and students stage silent protest during Learning Commons dedication

(Story)

Sep 03, 2015

Flyers found on campus shed light on university's financial state

(Story)

Aug 19, 2015

Administration says Learning Commons will be ready for business on first day

(Story/Media)

Apr 19, 2015

Color Fest helps students destress before finals

(Media)

Apr 19, 2015

BrigEats: Ale Mary's

(Story)

Apr 19, 2015

In This Issue April 2015

(Story)

Apr 19, 2015

He said, she said: Rolling Stone article fails in more ways than one

(Story)

Mar 22, 2015

In This Issue March 2015

(Story)

Mar 22, 2015

Student Spotlight: Briana Galea

(Media)

Mar 22, 2015

Zummo's Cafe provides perfect atmosphere and coffee for college students

(Story)

Mar 22, 2015

He said, she said: Should Colosseum vandals be punished?

(Story)

Mar 22, 2015

Marywood to sell South Campus

(Story)

Feb 22, 2015

He said, she said: Free education?

(Story)

Feb 22, 2015

Faculty form AAUP chapter as admins make changes to employee benefits

(Story)

Dec 03, 2014

Campus protest stirs controversy, leads to learning moments

(Story)

Nov 18, 2014

Veterans Day Ceremony 2014

(Media)

Nov 18, 2014

Marywood University Veterans Day Celebration

(Media)

Nov 17, 2014

In This Issue November 2014

(Media)

Nov 12, 2014

Past and present veterans honored at third annual event

(Media)

Oct 29, 2014

What's in the October Issue

(Media)

Oct 19, 2014

NEPA BlogCon educating bloggers third year in a row

(Story)

Oct 19, 2014

Marywood faculty and students volunteer at Steamtown Marathon

(Story)

Sep 23, 2014

Classes cancelled on campus to accommodate Cpl. Dickson's viewing

(Story)

Sep 21, 2014

What's in the September Issue

(Story)

Sep 21, 2014

Scandals plague NFL, shake up fantasy leagues

(Story)

Sep 21, 2014

Nursing program re-accredited through 2022

(Story)

Apr 14, 2014

College students organize 24-hour protest downtown

(Story/Media)

Mar 26, 2014

SGA to host elections

(Story)

Mar 23, 2014

String of assaults near U of S causes concern on campus

(Story)

Feb 20, 2014

Parking headaches have turned into migraines

(Story)

Feb 16, 2014

Lot closure makes for longer walks for students and staff

(Story)

Feb 03, 2014

Marywood expands services with Cocciardi and Associates

(Story)

Feb 03, 2014

Marywood expands services with Cocciardi and Associates

(Story)

Nov 24, 2013

Marywood Speech program awarded grant

(Story)

Nov 02, 2013

Marywood University introduces human trafficking task force

(Story)

Oct 28, 2013

Marywood breaks ground on Learning Commons

(Story)

Oct 27, 2013

Mayle leaves Halloween legacy at Marywood

(Story)

Oct 27, 2013

An Empty Place at the table

(Story/Media)

Oct 22, 2013

NEPA BlogCon like bootcamp for bloggers

(Story)

Oct 07, 2013

Nursing program regains accreditation

(Story)

Sep 15, 2013

Computers stolen from Performing Arts Center

(Story)

Aug 28, 2013

Marywood welcomes new head mens basketball coach

(Story/Media)

Apr 23, 2013
Apr 23, 2013

Vandals continue to damange campus property

(Story)

Mar 27, 2013

Candlelight vigil advocates for marriage equality

(Story)

Mar 26, 2013

SGA holds executive cabinet elections for first time in 5 years

(Story)

Mar 25, 2013

New parking spaces reserved for music therapy

(Story)

Feb 25, 2013

Faculty Senate announces policy changes

(Story)

Jan 30, 2013

Green Dot fair highlights sexual and relationship violence

(Story)

Jan 30, 2013

New changes to Honors Program announced

(Story)

Dec 05, 2012

Dance and Cheerleading clubs show team spirit

(Story)

Nov 16, 2012

Students' petition changed new door rule at Madonna Hall

(Story)