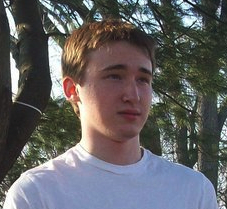 NAME:
Robert Smith
YEAR:
2015
MAJOR:
Digital Media and Broadcast Production
ABOUT:
I am currently a junior at Marywood University. My job title at
The Wood Word
is Opinion Editor. The news has always been an interest of mine and I take the accuracy of my reporting very seriously. I hope to graduate from Marywood University with a Communications degree and find employment as a videographer or a writer for a video production company.
Robert Smith, Online/Multimedia Editor
Dec 02, 2013

Electronics Extraordinaire: 'Tis the season to buy gadgets

(Story)

Nov 27, 2013

Electronics Extraordinaire: 'Tis the season to buy gadgets

(Story)

Oct 27, 2013

Curved glass devices are around the bend

(Story)

Oct 06, 2013

Electronics Extraordinaire: A new kind of console war

(Story/Media)

Oct 06, 2013

The ongoing search for Obama's foreign policy

(Story)

Sep 10, 2013

Ballmer on his way out, Microsoft's future uncertain

(Story)

Apr 23, 2013
Mar 25, 2013

New pope elected from the New World: Catholics place their hope and faith in Francis

(Story)

Mar 25, 2013

Electronics Extrordinaire: The Cold War of the web

(Story)

Feb 25, 2013

Blackberry: From birth to certain death?

(Story)

Jan 30, 2013

Electronics Extraordinnaire: Phone or "Phablet"

(Story)

Dec 05, 2012

Electronics Extraordinaire: Gadgets of Christmas past

(Story)

Nov 16, 2012

Electronics Extraordinaire: Windows 8: What you need to know

(Story)

Oct 26, 2012

More vandalism of Marywood statues (Update)

(Story)

Oct 17, 2012

Electronics Extraordinaire: 4K, the new definition of HD

(Story)

Apr 29, 2012

Marywood unites against sexual assault

(Story/Media)

Apr 18, 2012

Senior gift provides student opportunity to give back

(Story)

Feb 21, 2012

Local area ranks nationally for binge drinking

(Story)

Jan 31, 2012

SOPA stopped for now; PIPA still up for debate

(Story)