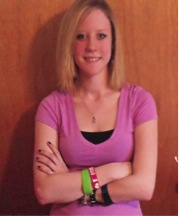 NAME:
Shalon Corrigan
YEAR:
2014
MAJOR:
Digital Media and Broadcast Production; Journalism (minor)
ABOUT:
In my off hours when I'm not on Marywood's campus, I teach piano to young children from the ages of 5-14. I'm a newly-appointed Head Videographer on
The Wood Word
. There are many things that I love about
The Wood Word
. I love that it's student-run. It gives the students a chance to speak. I also love how it's not some cheesy paper you read that students write; it's on real local, national and global news. Makes me happy I'm a part of the great
Wood Word
!
Shalon Corrigan, Head Videographer