Author talk closes out Marywood Creativity Month
Three contributors from the book "My Body, My Words" shared stories about body image and body positivity at an author talk held on March 29 in the Learning Commons.
Amye Archer, Dawn Leas and Rachael Hughes all contributed pieces to the book which is a collection of stories and poems. The book features pieces from 70 writers who come from various backgrounds, genders and ages who focus on body image and body positivity in their writing.
Amye Archer, contributor and co-editor of the book, said inclusion was an important aspect to compiling the pieces.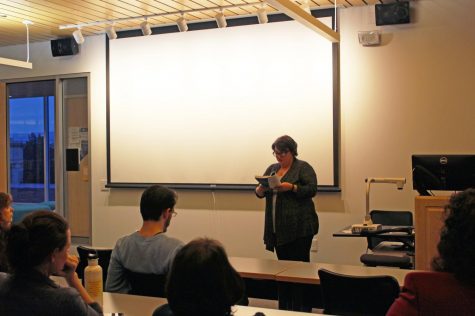 "When we did the book, we included men, we included transgender [individuals] and we included everybody who had something to say about their bodies in this book," said Archer.
The night consisted of each author reading a piece they wrote and giving a brief background about the story to the audience.
After each piece was read, all three authors sat together and held a question and answer session where the audience and the authors asked each other questions about their pieces.
Michelle Richar, a second-year graduate student in secondary English education, asked questions that focused on the authors' early writing careers.
"I was really looking for how they got started and it kind of gave me some inspiration that I can do it and I can get there some day, too," she said. "Seeing them being successful and hearing how they started is a big thing."
The author talk closed out Creativity Month, which was a month-long celebration of creativity on campus. Other events included the performance of "Sunday in the Park with George" by the music, theater and dance department, the Bayleaf Live and Bayleaf Open, the "Tres Vidas" Performance and various gallery openings.
Contact the writer: [email protected]
Twitter: @MargscottTWW