African Service Trip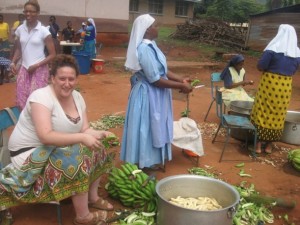 By Susan Keen
Staff Writer
This summer, fourteen students and two mentors received a grant to travel to Tanzania to tutor students in the English necessary to take exams. Eight Marywood students attended and one mentor accompanied them on the service trip. The group from Marywood included: Sr. Margaret Gannon, Rachel Green, Elise Gower, Moira Pope, Barbara Vail, Nina DePalma, Katelin Haley, Marin Braco, and Stephanie Simon.
The students prepared for the trip by taking a class on African culture, religion, the political situation, learned some phrases in Swahili, and tutoring skills. The class was held during the spring semester once a week. Aside from taking the class, the students also participated in fundraising for their trip. In the course of the preparations, a sister from Africa taught the students 32 polite things to say in Swahili and the national anthem of Tanzania. Even with all their preparations, though, the group was still unsure of what was exactly needed. "We floundered, the biggest difficulty was knowing exactly what the students needed." said Sr. Margaret Gannon, one of the group's mentors.
The group traveled a total of thirty-six hours to finally arrive at the Bigwa Sisters Secondary School where they were welcomed by the students. The school, which is supported by the African Sisters Education Collaboration, was originally for sisters, but is now open to any female student. Presently, the school is made up of teenage students as well as Sisters, ranging in age from twenty and thirty, who have yet to complete their education. Many of the students live in dorms because of the distance from their homes. "The school was not what we would see as a student at high school or college. In a small room, 10 students lived in each room and only had one small closet to put all of their belongings. The students were absolutely amazing. They welcomed us with open arms and we all grew very close to each other and continue to stay in contact to this day." explains Green, a sophomore.
The group tutored the students at Bigwa in English grammar because their exams were given in English, and though they could speak English, they still had trouble with writing. The college students also traveled to Bagamoyo, a town where slaves where traded from the first to twentieth centuries, as well as where the first missionaries and explorers landed, and to Mikumi Park, a wildlife preserve.
The service trip lasted from May to June. The students overall description of their experience seem to be contained in one worded answers, such as "Awesome!" and "Wow!" or simply unable to express in words their wonderful experience. Haley exclaims, "Overall, it was a phenomenal experience that I will never forget. This trip has completely re-affirmed my goals of being a physician in an African nation. I felt such a sense of belonging and community while we were there. Now that I am back, I have renewed motivation for pursuing my goals." Recently the school experienced a fire which burned down two of their dorms. Fortunately, no one was harmed, but the students must look for other places to live. Plans for raising money for the school have not yet been developed.
As students here at Marywood, we can help the students in Bigwa by donating our extra change to the pigs in First Stop because, according to Simon, "…these girls deserve a chance to learn." The fragility of these girls' education can even bring our own educations in to perspective; in other words, Haley adds, "Also, just be aware of how valuable an education is, especially for a woman in Africa, and take a greater ownership and value in your own education."
Organization, if possible, for a second trip will be known by October 1.