Introducing Father Brian Van Fossen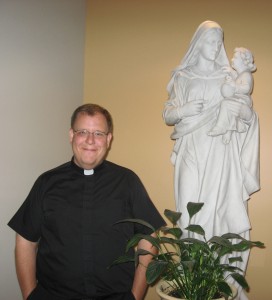 By Joe Kania
Staff Writer
Have you heard that Marywood has a new Chaplain? Father Brian van Fossen joined the Marywood community during the summer and is happy to be here serving in a college setting. Fr. Brian is a fun and witty guy that gets along with everyone.
His home town of Nanticoke is not far from here, and he attended Bishop Hoban High School. He received his undergraduate degree in Philosophy and Theology from the University of Scranton. He went on to earn his Masters in Counseling, Student Personnel Services from Edinboro University, and more recently completed his Masters in Theology from Catholic University of America. He has worked in several other college capacities including Campus Ministry at Mansfield University, Residence Life at Edinboro and Kent State University, and Student Activities at Mercyhurst College. He has been an adviser for Phi Kappa Theta Fraternity, Sigma Nu Fraternity, Kent Interhall Council, National Residence Hall, and St. John Neumann Student Council.
Fr. Brian was ordained as a priest on June 25, 2005. He was assistant pastor at St. Jude Parish of Mountain Top along with being Chaplain at St. John Neumann Regional Academy in Williamsport before coming to Marywood.
He enjoys video games, movies, Sports Center, the Food Network, and is an avid Notre Dame Football fan. He also enjoys being outdoors and hiking, camping, fishing, paint-balling, and white water. Fr. Brian has been as "jack of all trades" working as a life guard, a personal care attendant, a waiter, a bartender, a census enumerator, and worked maintenance in his past. He is looking forward to getting to know students. Fr. Brian stated, "everyone is an important person to me. Some people maybe put off because I might not remember their name but I would love to sit down with the students" but he would love to get to know the students at Marywood better. Stop by his office, and you will learn first hand that he is a fun guy to be around.
We welcome Fr. Brian to Marywood University and look forward to getting to know him better.  We hope his first year here on campus is a good one.