Did You Go Green on Halloween?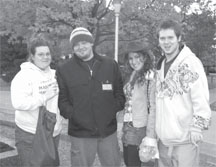 By Chuck Fisher
Staff Writer
At a time when three foot tall witches bang on your door demanding artificially flavored, high fructose corn syrup goodies, Marywood students took to the street for another reason. Several weeks back was Halloween, and the Pugwash Environmental Club and Campus Ministry set out to gather old cell phones, eyeglasses, outdated electronics, canned good, blankets, and more from the residents living around Marywood (and snatch up some free, teeth rotting, high fructose goodness) and then recycle/redistribute the gathered booty. The name of the event was Hallo Green and the months of planning the event culminated in a resounding success seen on Halloween Night.
"Many local people have hard to recycle items like cell phones and printer cartridges," said Junior Binita Patel, Vice President of Pugwash, "We wanted to give them an opportunity to recycle these things properly and to help out the less fortunate with donations of canned goods and blankets."
In the weeks prior to Halloween/Hallo Green, flyers explaining the project were distributed by Annette Fisher's University 100 class to over 350 houses in the surrounding neighborhood. They told the residents to have anything they wanted to recycle or donate on hand for collection by Marywood Students Trick-or-Treating on Halloween Night. When All Hallow's Eve arrived, over forty student volunteers gathered at the commons and were dispatched to surrounding streets to see what they could bring in.
The haul was outstanding! Dozens of old blankets, bags of groceries, eyeglasses, and electronics were returned and sorted at the commons. Great efforts were put in by the students who stayed behind at the commons just to sort the incoming items which were recycled and redistributed the following morning.
The feelings of the night were summed up by volunteer and Junior Remington Stafford, "I'll be in a sugar rush for a week, but at least it'll be for a good cause this year."