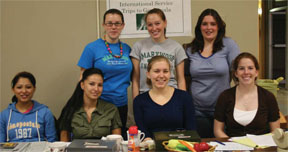 By Anna Mizer
Staff Writer
Service is one of the core values at Marywood University and students have the opportunity to experience this for themselves on one of the many service trips that are offered over fall break, winter break, and spring break. One of the international service trip opportunities that students have is the annual trip to Guatemala.  For the first time, there are two groups of students that will be traveling to Guatemala this year–one in December and one in May.
The trips to Guatemala will include activities such as a planting trees as part of a reforestation project, assisting with construction at a womens center, and picking coffee beans with local workers. The womens center has been under construction for several years and each year Marywood students travel to Guatemala they get the chance to be involved in a new phase of the construction and see how the center is developing. Students also help at a local school that is run by the mission. In the past, trip participants have helped by painting furniture for the school and getting it ready for the upcoming school year. By participating in this trip, students gain a better understanding of the Guatemalan coffee industry and learn about the local co-ops that Guatemala operates. Additionally, as part of the experience participants will have the chance to work hand-in-hand with locals and experience the Guatemalan culture in its entirety from food and dress to customs and history. For 10 days, the students will be living in solidarity with the Guatemalans and experiencing what is it like to be part of their culture.
Kelly Adgie, a Senior Speech Pathology major, was a participant in the trip last December and offered her reflection on her experience, "I went to Guatemala with the intention of volunteering to help people less fortunate than myself. Throughout my time in Guatemala, however, I realized that the people I was supposed to be helping were in fact helping me discover who I really was. The people I met were so devout in their faith in humanity, and so solid in their virtues that many material things that mattered to me would never matter to them. Their kindness and their 'take it as it comes' attitude in life has taught me so much more than I could ever express. No matter where life takes me I hope to carry their presence and their philosophy with me."
Story continues below advertisement
Overall, the two trips are exposing more than 25 Marywood students and faculty to an experience of a lifetime. In order to help defray the cost of the trip, the students are working vigorously to fundraise through activities such as the Flea Market which was held October 24th and 25th. Together, with the help of the Marywood community, the Flea Market helped to raise over $2,000 for the Guatemala trips.  In case you missed the Flea Market this fall, there will be another chance in the spring for you to find a Flea Market treasure.
Throughout the year, the trips are going to be doing other fundraisers such as Cookie-in-Jar for the holiday season, a basket raffle in the spring, and a Marti-Gras celebration. On November 18 and 19, the Guatemala trips hosted a Fair Trade sale featuring products from several countries.  This was a great opportunity for some early Christmas shopping that benefits so many people.  Campus Ministry always  has Fair Trade coffee and chocolate as well as T-shirts for sale. Some of the new varieties of chocolate include white chocolate strawberry, dark chocolate with fruit and nuts, and crispy milk chocolate. Keep your eyes out for any upcoming events and the groups thank you for your generous support! Please keep the them in your thoughts and wish them safe travels.