Hunger and Homelessness Week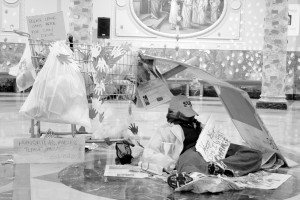 By Krystle Powell
Staff Writer
Did you know over 20% of Scranton's population lives in poverty? In a city where 1/5 of the people live in poverty it is important to try to make people aware and combat this striking number. On November 9-15, Marywood University celebrated Hunger and Homelessness Awareness Week. During this week, students and faculty participated in a variety of different types of activities from working hand in hand with those in poverty to raising awareness about world hunger.
One of the projects used during this week to raise awareness for world hunger is the Hunger Walk. Students walk around Marywood's campus while stopping at educational stations to learn about hunger issues. By collecting donations, the students participating in the Hunger Walk also raised over $500.00 for the Breadbasket of NEPA. Paige Jablonski, a two time participant of the Hunger Walk said "It's eerie seeing those facts and statistics about poverty and world hunger; it makes me realize how lucky we really are and how much we take for granted." Another activity during the week that makes people aware of hunger in the world is the Hunger Banquet. Students get to experience the true nature of wealth and poverty around the globe. Katie Bloodgood, a sophomore stated during the Hunger Banquet, "I kind of got the short end of the stick[in the low class], but in reality we are given something and have to learn to deal with it the best we can." In the Rotunda there was an educational display set up to not only give people facts, but also give some suggestions to help end poverty and hunger, like visiting hunger related websites or recycling. One of the biggest awareness projects is the Sleepout for the Homeless. This year over a hundred students gathered to sleep outside and raise awareness of the problem of homelessness and also to show their support in solidarity with our brothers and sisters who do not have homes and warm beds to sleep in.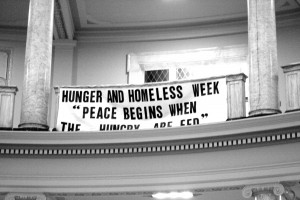 Not only was there educational and awareness raising projects during the week, but there was also a chance to really work and combat hunger and homelessness in the local area. Twice during the week bagged lunches were made and delivered to local agencies: The St. Francais Kitchen and Community Intervention Center to be handed out to those in need. Students also made several trips to the St. Francais Kitchen through out the week to serve and prepare a meal for the hungry in the area. Other students went to Community Intervention Center to prepare a meal and play bingo with people at the center. Some students also prepared and served meals at St. Anthony's Haven and Bethel Shelter in Scranton. People could also donate personal care items through out the week which would be distributed to those in need.
During the week there was a program in the Rotunda called "3 minute stop on the Journey" it allowed for people to pray and reflect on world poverty. It touched on topics such as solidarity and human dignity. Hunger and Homelessness week is a time when we do not only promote service, which is one of Marywood's core values, but also education. People need to become aware of the troubles of the world so that we might one day combat them. The educational aspect is very important because, as the sign in the rotunda said, "Keep your coins, I want CHANGE."