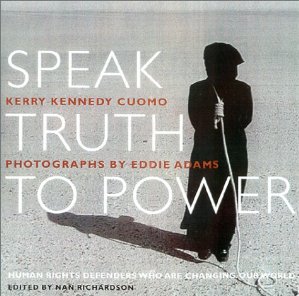 Cover via Amazon
By Chuck Fisher
Staff Writer
There were many activists highlighted in Ariel Dorfman's play, "Speak Truth to Power," shown here on campus a few weeks ago. Although impossible to compress all of them along with their activities and courage into one article much less the exploits of just one of them, this article will focus on the activities of Jose Ramos-Horta, the co-recipient of the 1996 Nobel Peace Prize, current president of East Timor, and tireless advocate for human rights in East Timor.
East Timor is a small country located on the eastern half of the island of Timor within the Indonesian archipelago that was colonized by the Portuguese who held control of it until 1975. Jose Ramos-Horta, son of a Portuguese father and Timorese mother, grew up in the small village of Soibada and was educated at the local Catholic Mission. He became active in the campaign for the liberation of East Timor from colonial rule and was a founding member of the FREITLIN (Revolutionary Front for an Independent East Timor) political party.
A two week long civil war broke out in East Timor during 1975 between opposing political factions and led to Portugual's subsequent withdrawl from the island. East Timor declared independence in November 1975 and Ramos-Horta was made the tiny country's first foreign minister. He flew to New York to speak to the UN about the plight of his people and when he was only out of the country for three days, it was violently invaded by Indonesia. Ramos-Horta, only 25 years old at this time, spoke to the UN Security Council and encouraged the passage of a resolution condemning the invasion and ordering Indonesia to leave. The resolution passed unanimously, but Indonesia ignored it and continued to occupy East Timor until 1999.
During the occupation, the population of East Timor was effectively shut off and isolated from the rest of the world. Thousands were rounded up into camps where they were starved and tortured. Numerous Indonesian military and bombing campaigns against rebel forces killed thousands more innocent people. Ramos-Horta himself lost his sister and two to his brothers to the brutal occupation which he estimated that upwards of 200,000 of his countrymen were killed.
Ramos-Horta was exiled from his homeland and spent the occupation years championing his people's cause. He spent a few years working for the Mozambique government and later became a senior fellow at Oxford along with earning several degrees. He also traveled throughout the United States giving speeches and trying to raise awareness and concern for East Timor.
In 1996, East Timorese Bishop Carlos Filipe Ximenes Belo and Jose Ramos-Horta jointly received the Nobel Peace Prize "for their work towards a just and peaceful solution to the conflict in East Timor," according to the Norwegian Nobel Committee. They also called Ramos-Horta, "the leading international spokesman for East Timor's cause since 1975." The Nobel Peace Prize helped bring about further awareness of the dire situation in East Timor and spurred further action. It also made many new enemies for Ramos-Horta and numerous death threats were made against him.
With internal and external pressures mounting against Indonesia, a referendum was finally held in 1999 that would let the East Timorese decide whether they wanted to remain as a part of Indonesia or whether they wanted to be granted sovereignty. On August 30, 1999, 78.5% of the East Timorese voted for independence. When the official votes were tallied on September 4, violent militias and Indonesian soldiers retaliated against the population by burning houses, buildings, and offices across the country and massacring hundreds of civilians. Gangs also rounded up approximately 200,000 people and forced them into camps across the border in West Timor. Ramos-Horta's oldest sister and her family were among some of the victims abducted during the violence. Ramos-Horta spent this time pleading with for international intervention to stop the killings, destruction, and abductions. On September 12, Indonesia agreed to withdraw troops and on September 20, UN peacekeepers entered the country to the elation of the East Timorese people.
A transitionary UN government administered East Timor until 2002 when full autonomy was granted and the country became the 191st member of the UN. During the transition, Ramos-Horta played a crucial role in helping to shape the details of the new democracy and when full autonomy was granted he became the first foreign minister to the UN. In 2006 he was appointed Prime Minister and in 2007 he was elected president.
Jose Ramos-Horta continues to push for reconciliation between Indonesia, East Timor, and rebels still hiding in the mountains. He survived an assassination attempt last February and spent a month recovering in Australia before returning home. Jose Ramos-Horta is a man who exemplifies all that it means to strive for freedom and equality in world that is often unfair and unjust.