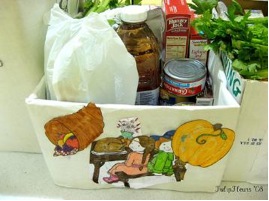 By Josh Rumage
Staff Writer
When Thanksgiving arrives, we usually get out the turkey, cranberries, and mashed potatoes and sit down with our relations to a feast in which we express our thanks for the year that is soon to end. For some, however, they may not be able to do this like you normally would. With this economy and job market, some families are finding it difficult to make ends meet for this coming Thanksgiving leading to little festivity and celebration on that final Thursday in November.
In our society, we very often take our daily bread for granted. Whether it is a trip to the grocery store or a walk to the Woods Café, it is far from a life-and-death situation; yet with the rise in food cost, a threat is looming. According to TLC Cooking, in America the poorest households spend approximately 16% on their food income. As indicated by the World Bank, food price has risen to 83% in a three-year time frame and will probably continue its rise.
Surprisingly enough, the rise of food prices goes along with oil. Both the United States and Europe have funded biofuel research in order to provide a substitute for gasoline as it continued to rise. Ironically, when gas prices are high, it contributes to the rise in food cost for when food companies have to ship products to grocery and convenient stores, as well as restaurants and fast food companies; the products become pricier to cover whatever the cost of oil was for the delivery truck's transportation.
Sadly, this is only half of the reason. The state budget gridlock is causing apprehension in food banks and pantries that rely on Commonwealth funds. At lockhaven.com in the article State budget impasse causing concerns with food banks, written by Scott Johnson on September 1 of this year, Dr. Nicole Summers indicated in a statement that "every food bank is experiencing the crisis" and that the food banks have found themselves "serving more people in 2009 than in 2007 with essentially the same budget from the state."
A lot of food banks and pantries are either getting little of the support they need or have had to close their doors entirely. Also, programs like Meals on Wheels have had to adjust their program by offering three meals a week instead of five and some have even had to shut down that service due to insufficient funds. Because of this, many people, needy and elderly, are forced to go without a days worth of food.
Here at Marywood, Campus Ministry's annual food drive is a big part of the Scranton community. For over 20 years, this has been a great tradition and occurs every year around the holiday season. Every year, Marywood gives food to over 80 local families around Thanksgiving and Christmas. Every needy family who receives these donations are referred to the Marywood Campus Ministry by the United Neighborhood Centers of Lackawanna County.
University volunteers shall accept pecuniary donations of perishable and non-perishable food items from the community. Also, student clubs, organizations, and school departments at Marywood participate in the holiday food drive in another special way; these groups partake in the "Adopt a Family" event. This means that all the different clubs, departments, and organizations will purchase the foods items to create a basket that they will personally deliver to the door of their adopted family. Come Christmas, they will give their families both a food basket and gifts for the children of the household.
Amy Fotta, Assistant Director of Campus Ministry, stressed the importance of this year's need for assistance, "The Thanksgiving Adopt-A-Family Program is especially important this year because many area families have been hard hit by the national economic crisis, as well as the PA budget impasse and its ramifications.  This year, more than ever, many families are struggling to stretch their financial resources to get by.  This program provides support that allows the families to enjoy the tradition of food and family without the added financial burden."
If anyone wishes to partake in the 2009 Marywood Food Drive, you may do so by calling the Campus Ministry at (570) 961-4723. This program will continue through December 14 of this year.