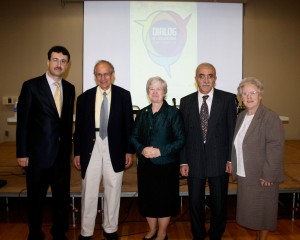 The Turkish Students Association of Marywood University sponsored the panel discussion, Dialog of Civilizations: Islam's Perspective. The panel of diverse religious leaders focused on opportunities for mutual understanding and collaboration among the world's religions.
The discussion was in response to Samuel Huntington's essay "The Clash of Civilizations."
Attending dignitarieswere, from left to right. Erkan Acar, President of Turkish Students Association, Dr. Walter Wagner, Ph.D, Moravian Theological Seminary, Sister Ann Munley, President of Marywood University, Bekir Aksoy, Executive Director of Golden Generation Retreat Center, and Sister Margaret Gannon, Chair of Social Sciences Department, Marywood University. Photo credit Morgan Strasser.
Story continues below advertisement