Loving and learning a world away
"I came here with her because I love her," he said. Yuan Zhou came to Marywood University from China to study with his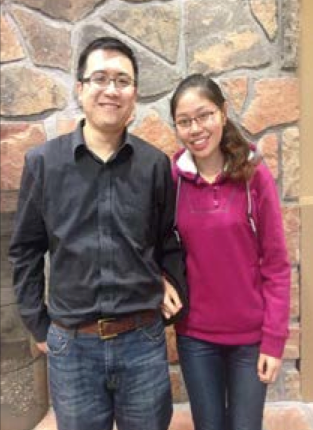 fiance, Lujing Zhou. The recently engaged couple have been tackling life here in the States. It was Lujing's drive to expand her knowledge that guided both her and Yuan to Marywood University. Lujing and Yuan, or "Joe," as he's called by friends, began their first semester at an American university last August. The pair, ages 27 and 30 respectively, are both from Shanghai, China. Both Lujing and Yuan were born in a smaller section of Shanghai, 25 miles from the center of the city.
Adapting to a foreign culture
"Before we arrived here, people always asked us why did we choose Scranton," said Lujing. "Our answer is that we were born in a small town and we can adapt to a small city's lifestyle."
However, both Lujing and Yuan agree that when comparing their lives in Shanghai to their lives in Scranton, Scranton is a little bit dull. There are not as many places of entertainment in Scranton as there are in Shanghai. And, without a driver's license between the pair, they don't have much opportunity to explore.
"There are not many places to go, especially when we have no car and depend on the bus schedule," said Lujing. "That's why I now want to apply for a driver's license here."
Aside from the city they now live in, their diets have also changed. In China, they were used to eating a lot of rice. Although they were accustomed to eating KFC, Sub- way, and McDonald's in Shanghai, they cannot handle eating it all of the time.
"We cook a lot of traditional food. However, Scranton does not have a China Town, so we go to an Asian market here, and travel to New York to buy a lot of Chinese food, and then store it at home," explained Lujing. "Now, our diet model is combined with eastern and western foods, which taste better."
I am good at cooking now. Steak with onions and fresh hamburger with lettuce are two new kinds of food," explains Yuan.
Lujing and Yuan do not live on campus but instead with a local family that provides housing and food for the couple. Living with a local family gives Lujing and Yuan the chance to meet other local people, and they also celebrated their first Labor Day and Thanksgiving with the family. The family also shows them many interesting places in Scranton, and on the weekend they all go to the grocery store together.
Lujing and Yuan know some other people in this area who came here from Shanghai. They all hang out together and go see sights such as the view in Tobyhanna, Lake Scranton, and the shopping outlets. They have also made the journey to New York City and plan to visit the city again around the holiday season. Although both Lujing and Yuan have made friends, they both miss their parents and friends a lot.
"We Skype and Micro Blog to contact our friends and family everyday," said Lujing. "Texts to China cost 5 cents for a message, which helps us to link to China in a less cost-effective way." China uses SINA Micro blog rather than Facebook because Facebook is not permitted in China.
Although they are away from home, they do not feel out of place here in America.
"There are many Chinese students studying in the U.S. every year. Marywood also has some new Chinese students admitted into this school this year. I know at least four students," explains Lujing. "American culture is mixed with different countries, so I feel comfortable here."
Studying abroad to help their homeland
Lujing originally enrolled at the University of Scranton while Yuan enrolled here at Marywood. Lujing soon transferred to Marywood for two reasons. She felt that she would get more one-on- one tutoring time here at Marywood as opposed to the University of Scranton, and she believe that she and Yuan should be at the same school to give each other support.
"Marywood is a friendly campus. That's why I transferred from the University of Scranton to here," said Lujing.
In China, Lujing worked as a physician specializing in gastroenterology at Huashan Hospital. She attended Shanghai Jiaotong University School of Medicine where she obtained her undergraduate degree. Yuan studied at Shanghai University for management and worked for the Chinese government for six years.
At Marywood, both are enrolled as graduate students. Lujing is a graduate student going for her Master's in management of Health Services Administration. She is expected to obtain her Master's in 2014.
"There are many good physicians in China, but there is a lack of management skills that are needed. After years of working, I've seen good and bad practices at work and there is a gap. I came here to learn the skills and the operation mode of America to see what would be most effective in China," said Lujing.
Yuan is a graduate student in the business program. However, to start taking classes in business, he must first complete the Intensive English Program. Yuan will find out if he passed or failed the Intensive English Pro- gram at the end of the semester. Yuan said he hopes to invest in a company or to become a manager once he obtains his Master's degree. He is also expected to graduate in 2014.
"Shanghai is the biggest financial center of China. There is a big business market," explained Yuan. "I wish to use the skills learned here to forward that business market."
Both Lujing and Yuan feel it was more effective to work in their field and then come to America and study. Although they said they experienced culture shock at first, they are pursuing their graduate education in their desired fields in America. Both said that the education they will receive here will give them an advantage. They plan to bring back that knowledge and experience to China.
"To go abroad is a challenge for me be- cause after five years working for local Chinese government, I have even forgotten how to speak English. However, I believe each challenge is born with great opportunity. I know the change here was tough at the beginning, however, with courage and confidence, with hope and perseverance, I am sure that after two years of education here, Lujing and I will gain more: not only in life skills but also in knowledge. It will be a great experience for us. When I miss my mom, when I meet difficulties, I always tell myself to keep on trying. Every time I try is one step closer to success," proudly announced Yuan.