The Like: Release Me – Current Retro Music!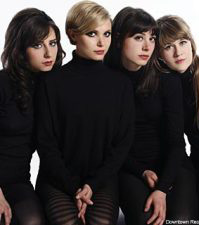 Jeremy Barket
Staff Writer
Girl groups.. Girl groups.. Well Taylor Swift is on top of the pop/country charts, Lady GaGa has control over the dance club hits, and Rihanna keeps getting more famous. But where are those all-girl groups who started in their garage, who actually play all of their own instruments, and who actually write all of their own music? The Like are an LA-based all-girl music group which sound almost in distinguishable from many girl groups from the early 1960's. You've heard the type of music.
Retro songs about love, relationships gone wrong, and more songs about relationships gone wrong. This is pretty much what kind of music the band The Like is putting out there… but isn't that what most music is about anyway? This album will probably not change your life, but it will definitely grab your attention with it's retro-current sound and catchy lyrics… mostly based on relationships gone wrong.
Released June 15th, 2010, 'Release Me' is the second studio album from the band The Like. The band consists of Z Berg [lead singer/guitarist], Tennesse Thomas [drums], Laena Geronimo [bass], and Annie Monroe [organ].The original formation of The Like started when Z Berg was still a teenager, but the band has went through different lineups to get to where they are now.
"'Cause I just can't forgive and forget/When I'm through with him he will be wishing he was dead." These are just some of the lyrics Z Berg belts out on 'Release Me's opening song, "Wishing He Was Dead." The song opens with a garage style guitar, followed by the bass, drums, and the instrument what makes it sound truly retro – the organ. Listen for the all-girl back up vocal shrieks!
Although the band is extremely influenced by 1960's 'British Invasion' bands, the sound they produce is something different, unique, and ultimately very catchy. Thomas reveals her love of 'British Invasion' bands in a recent interview in ELLE magazine, "We're Obsessed with the Beatles and the Who and the Kinks, they made playing music seem like the most fun thing ever."
Although various members of the band have parents that work in the music business [Z Berg's father used to work for Geffen Records], it doesn't make the music any less than what it is. It doesn't hurt their style or appearance either. They know how to be noticed. Perhaps this is why designer Zac Posen featured the band in a music video to promote his Target fashion collection.
This isn't to say The Like should only be noticed for their unique sex appeal style. In the same interview with ELLE, Z Berg states "When you make music with boys, they don't tell you you're pretty or you're playing very well. We'll say, 'You're good. You look nice today.'"
The music doesn't drag on, it sounds as if The Like starts their song, say what they want to say, and then it's already onto the next song. Most songs clock in at about three minutes each. They all seem like radio friendly pre-packaged pop singles! Although the music does sound like radio ready music, the band is still relatively unknown.
Following the opening track, "He's Not a Boy" is a song about 'a boy you can't change nor should you want to.' Perhaps this is the boy who Z Berg had some fun with before it undoubtedly ended horribly and a song came out of it. A few songs later, "I Can See It In Your Eyes" follows the same opening-verse-chorus song pattern, with lyrics of "You'll never leave her will you, baby?/ I understand you'll never grow up, or be a man/and I'd wait a thousand years for you/but this I demand/just tell me where I stand/take my hand, I know you can."
But the real gem of 'Release Me' doesn't come until the very end. Nearly all the previous songs on the album are either upbeat or have a sunshine-y vibe, but "Don't Make a Sound" is without a doubt the most musically in-depth, darkest song on the album. The song starts out with a melody sung in echo before launching into a dark vibe, using the organ extensively to build up into the first verse.
"I set the scene to tell the tale/Who would have known his face would pale/Life if never what you want/Unless you plan it from the start" followed by the chorus following the same melody of the very beginning. It makes for a very powerful hook. Also, don't forget to listen after the final words for the bonus song!
So, although 'Release Me' probably won't change your life, The Like will provide you with a different view of recent 'girl band' music. You may hate it after one minute, one week, or one year, but it would ultimately be worth it.