Marywood student to perform one-woman show at Scranton Fringe Festival
After creating a one-woman show as a capstone project last spring, a Marywood theatre major is about to debut her work on a professional stage at the Scranton Fringe Festival.
Angela Klawiter, a fifth- year student completing her double major in both theatre and early childhood education, created her capstone"Bird Thief" as a very personal form of therapy.
"I knew I wanted to do something that I would want to invest a lot of time in, something that would say something about the world and comment on human existence, which is what I believe all art should do," said Klawiter. "My friend Leanne, who ended up being my stage manager, she suggested, 'You're a good writer. Why don't you try writing something'?"
With help from her project advisor, Dr. Timothy Pyles, director of the theatre program at Marywood, Klawiter wrote several drafts before the play reached its final form. After it was received and graded very positively, she wanted to formally publish the show. Pyles nudged her towards debuting it at a fringe festival, an arts festival where plays, musicals and theatrical works from independent artists are welcome.
"She performed it here last spring, and now she's performing it again at the Scranton Fringe Festival," Pyles said. "I suggested the possibility of submitting [the play] to fringe festivals; a lot of colleagues have taken smaller shows and one-man shows to [them]. It's a good way to get your show out there."
After submitting the necessary paperwork, the Scranton Fringe Festival accepted her show. "Bird Thief" will be performed in the Junior Ballroom at the Scranton Cultural Center on Oct. 6 at 6:30 p.m., and Oct. 8 at both 2 p.m. and 5 p.m.
Though contact with festival management has been brief and limited, Klawiter said they have been very welcoming and helpful.
"I knew when I performed it on March 22 [this year] that it wasn't going to be the end. I'm a huge person of faith, so whether this was just my gut instinct or divine intervention, I just knew it wasn't the end," Klawiter said. "It's only been through email correspondence so far…it's almost like [the different performers] are independent contractors."
The play takes the form of a young woman going to Confession, only there's no priest on the other side of the screen. This is her last act before committing suicide. Here her past traumas, including abuse and sexual assault, are laid bare, as well as the question of what it means to be a deeply faithful person in such a tumultuous and despairing time.
Because the play contains mature themes, the author has added a content advisory to both social media and promotional material.
"I wanted to talk about issues like mental health, and sexual assault, but also abuse in the Catholic Church," said Klawiter. "I don't have the same experiences as the character, but I do know what it's like to feel confused and lost, and lonely and isolated; a deep sense of pain: all of those big feelings."
Pyles is proud of the work of his student, and hopes people will enjoy the show as well as think about the themes and subject matter presented.
"I would hope people want to interact with it…It's a really terrific show. I think people will be glad that they went and saw it," said Pyles. "I think it's very thought-provoking, and honest and genuine."
Klawiter, too, hopes people come out of it with a different perspective on things. Theatre and religion are her two life's passions, and she says that she's happy that she's not only found a way to marry them in this show, but is also able to perform it for a large audience.
"Even though this was an 'individual performance'," Klawiter said, "I was never alone in any of this. It's not been an easy journey. It hasn't been easy to reopen wounds and go to dark places, but those around here, in the Marywood community…made sure I was safe, protected, and loved, and without them I could not have gotten this far."
Contact the Writer:
[email protected]
About the Contributor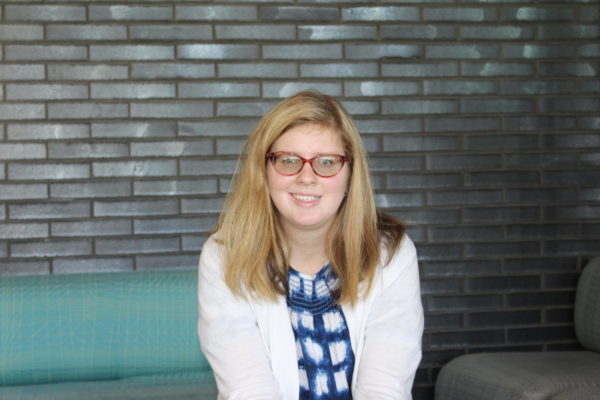 Brianna Kohut, Staff Writer
Brianna is a junior studying Film and TV Production in the Multimedia Communication Department. She is also a member of the RPG club and a DJ for 91.7...