Though parking now free, enforcement to be stricter, fines higher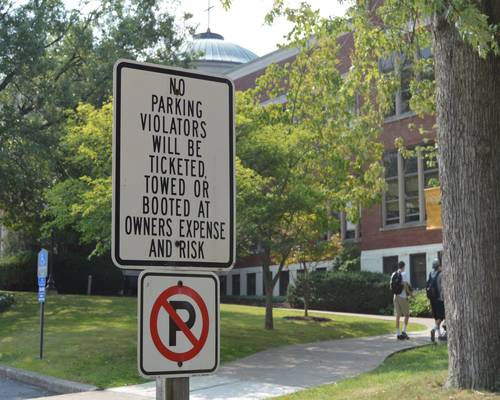 It's a whole lot cheaper for students to park their cars on campus this year–so long as they register for a permit and actually park in their designated lots.
Student parking is now free for all commuter and resident students. This is a significant change from last year's policy, when students paid $200 to park on campus. Other changes in the policy, which apply not only to students but also to faculty and staff, included an increase in fines for parking violations and changes to parking lot designations.
Free parking
On August 3, Mike Finegan, chief of campus safety, sent out an e-mail to all faculty, staff, and students alerting them that major changes to the parking policy were awaiting administrative approval.
On August 13, Joseph X. Garvey, vice president for business affairs and treasurer, released the officially approved parking reforms approved by Sr. Anne Munley, president of Marywood University.
Though parking is free, fines for failing to park in designated lots have increased to $50 for general parking spots and $100 for handicapped spots.
Likewise, the previous policy which allowed for relaxed permit parking between the hours of 4:30 p.m. and 7 a.m. has been eliminated.
On August 17, Finegan sent a campus-wide e-mail stating that "due to general lack of compliance with the prescribed timeline," relaxed open parking after hours would no longer be allowed. Staff and students now must park in their designated spots at all hours.
New lot designations
Designated lots have also changed. Commuter students can now park in the large and small Nazareth lots, the lower Visual Arts lot (also known as The Pit), or rear lot of the Center for Athletics and Wellness.
Residents are to only park in the upper and lower softball lot, McGowan upper lot, or by the Woodlands apartments.
Staff and faculty can park in the upper Visual Arts lot, Sette LaVergette rear and main lots, on the University Avenue hill, tennis courts lot, and Loughran garage lot.
To help enforce the new rules, there will be corrected designation signs in each parking lot. All students and staff wishing to park on campus are required to register their cars within the office of campus safety for a parking sticker.
"There is enough parking here on campus if people park where they are supposed to," said Garvey. "Mike [Finegan, chief of Campus Safety] was able to walk from one side of campus to the other in about five minutes … residents should not be needing to drive to their classes," said Garvey.
Higher fines
Previously, all parking fines were $25; now, parking outside of a designated lot can result in a $50 general parking spot fine; parking in a handicapped parking spot without a proper sticker is a $100 fine.
As in previous years, fines can be appealed, but the appeal form and process has been modified. A newly formed appeals committee will consist of Finegan and a single member from the following groups: faculty, professional, support staff, undergraduate commuters, and undergraduate residents.
The appeal forms are located outside the door of the Campus Safety office, which is located near the mailboxes across from the Nazareth dining hall.  Those wishing to appeal must fill out a form which includes the appellant's name, e-mail, license plate number, and location where the fine was received.  The appellant must also state why he or she is appealing the fine and attach a check for the amount of the fine. If the committee grants the appeal, the check will be returned to the appellant.

Mixed reactions  
With lots like the Sette LaVerghetta Center for Performing Arts Center'snow designated as faculty/staff only, for example, musicians like Melanie Speakman have a longer walk with their instruments.
"I find it annoying that I can't park in the PAC lot, but it's not a terrible inconvenience," said Speakman, a senior philosophy major and member of the Marywood Wind Ensemble. "But, I'd rather have free parking than pay to park in the PAC lot. … It'll be a little more hassle [now] because I'll have to carry my horn."
Speakman added that musicians with very large instruments will have even more trouble, but she is hopeful that any of them who briefly park to unload their instruments will not be fined in the interim.
Maria Temples, a Student Government Commuter Representative, is excited for students.
"I'm just really happy that parking is free this year, it's something that students have wanted for a long time, " said Temples, a junior nutrition major.
Finegan said he believes these alterations will have a positive effect.
"One nice thing is residents are centralized all in one area by each other. This will greatly help with snow removal," said Finegan.
Garvey agreed that snow removal will be improved this year with a clearer separation of residents and commuters and with relaxed, open parking disbanded as students previously would leave vehicles in restricted lots past the 7 a.m. curfew.
Contact the writers:  
Anne Zukowski [email protected]  
Paul Capoccia [email protected]