PACERS SPORTS REPORT: Cabrini sweeps both Marywood basketball teams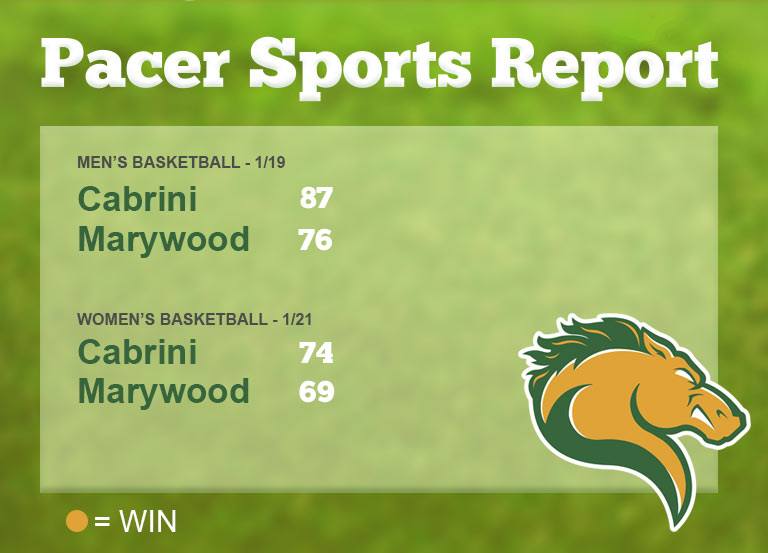 Photo credit/ Carolyn Warcup
Women's Basketball v. Cabrini University
Cabrini University snapped the Pacers' six-game winning streak with a 74-69 victory on Sunday.
According to the team website, the Pacers were down 14 in the fourth quarter before making it a two-point game in the final minute.
Junior guard Gab Giordano hit a layup with 56 seconds left to cut the deficit to 66-68.
The Cavaliers' Cassidy Gallagher hit two free throws to extend the lead back to four. Giordano went back to the line with 27 seconds left but failed to convert both free throws, putting the game out of reach.
Giordano finished with 12 points and eight assists. Freshmen guards Aryah Aungst and Erika Bistran both finished with 11 points.
Cabrini's Lexi Edwards led her team with 31 points going 6-7 from beyond the arc.
The Cavaliers improved to a Colonial States Athletic Conference (CSAC) best 15-2 with a perfect 8-0 conference record. The Pacers fell to 7-2 in the CSAC.
Men's Basketball v. Cabrini University
Despite big performances from both Tip Swartz and Jeremy Ringland, the Pacers fell to the Cavaliers last Friday.
Swartz had a game-high 30 points in 37 minutes of work. He hit six three-pointers, grabbed six rebounds and tallied four assists.
Ringland scored 25 points and also snatched six boards. No other Pacers player landed in double figures.
With the game tied at 15 in the first half, Cabrini sparked a 15-4 run to establish an early lead.
Marywood kept the game close throughout the first half and were down 10 heading into the break.
The Pacers went on a 6-0 run to start the second half, but Cabrini took the momentum back for good with a run of their own.
Cabrini's Tyheim Monroe scored 28 points and grabbed a game-best 17 rebounds to complete the double-double.
The Cavaliers improved to 9-1 in the CSAC while Marywood dropped to 4-6.
Contact the writer: [email protected]
Twitter: @JohnFerraroTWW