PACERS SPORTS REPORT: Both Pacers basketball teams fall to Neumann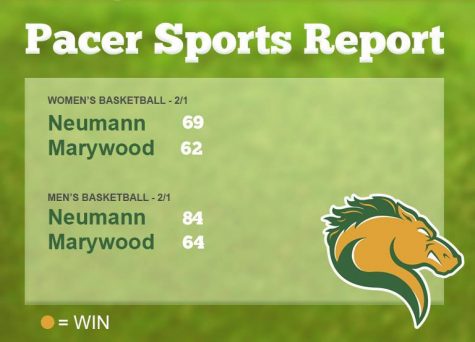 Women's Basketball vs. Neumann University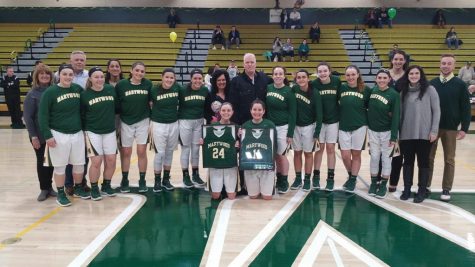 Photo courtesy of Marywood Athletics website
The Pacers dropped to fourth in the current Colonial States Athletic Conference (CSAC) standings after losing to Neumann on Wednesday.
Marywood struggled defending Neumann's Nafisa Saunders who scored 37 points and collected 10 rebounds.
The Pacers also stumbled at the free throw line going 12 of 20 and tallied a staggering 20 turnovers on the evening.
Neumann had just a one-point lead heading into the half, but opened up a 10-point lead at the end of the third quarter.
The Knights' lead grew to 14 early in the fourth, but Marywood answered with a 15-5 run over a five-minute span, according to the team's website [LINK: http://marywoodpacers.com/news/2018/1/31/womens-basketball-marywood-slips-to-neumann-in-csac-tilt.aspx].
Down 67-62 with 32 seconds left, Marywood had a chance, but turned the ball over on an inbound play.
Freshman guard Erika Bistran led the Pacers with 20 points.
The loss drops Marywood to 10-10 with a 7-3 conference record and one game behind Gwynedd Mercy University in the CSAC North Division.
The team travels to Notre Dame of Maryland University on Saturday.
Men's Basketball vs. Neumann University
Marywood suffered their second-straight blowout loss. This time it was to Neumann, who started the game with a 15-0 run.
All five Neumann starters landed in double figures, led by Billy Cassidy and Tyaire Hudson with 15 points each.
The Pacers only had three players reach double-digits. Junior guard Tip Swartz had 21 while junior forward Jeremy Ringland tallied 14.
Freshman guard Tone Cockrell hit three shots from beyond the arc and finished with 12.
The Knights also outshot Marywood for the game at a 57 percent clip and dominated points in the paint 34-16.
The loss dropped the Pacers to 6-8 in the conference making their road to the postseason a little harder.
Marywood will compete in the CUNYAC-CSAC Challenge on Saturday.
Contact the writer: [email protected]
Twitter: @JohnFerraroTWW