Reflections on Haiti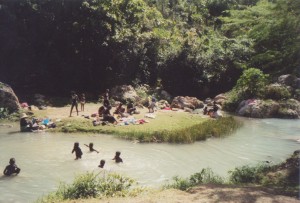 By Amy Fotta
Assistant Director of Campus Ministry
I have seen more devastation in Haiti than my mind or heart can even begin to comprehend.  Coupled with that, I have witnessed immense solidarity with the Haitian people  – outpourings of generosity, from medical personnel, rescue teams, and aid workers responding to the emergency to the global community supporting relief efforts with financial contributions.   As one headline in a recent online National Catholic Reporter article stated, "Outpouring of Compassion is amazing … but the vastness of the devastation is beyond imagining."
Having visited numerous times, lived and worked in Haiti, and developed many relationships with friends and colleagues there over the past ten years, the news of the January 12 earthquake was especially disconcerting for me.  You see, my experiences in Haiti challenged me to realize a depth of humanity that I had never before even imagined: immense poverty co-existing with amazing beauty.  I came to understand life in Haiti as a delicate balancing act for survival, an unavoidable truth being that most of its beautiful people struggle daily to meet their basic needs.  This is a reality that most of us in the U.S. cannot even begin to imagine, let alone understand the complicated reasons for its existence.  My eyes were opened to the beauty, the dignity, the endurance, the strength, the faith, and the solidarity of the Haitian people.  And this transformed me in a very profound way.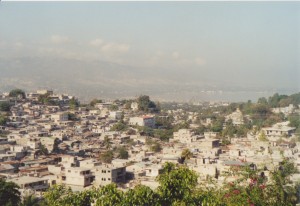 In a humble attempt to honor the Haitian people, I offer you the following two excerpts from reflections written and shared by friends and colleagues who are and have been 'in the trenches' – so to speak – since the earthquake hit.  I hope their words help to fuel the sustained solidarity that is essential for Haiti to experience resurrection out this death and destruction.
Amber Lynn Munger, January 16, 2010. 7am: All of the homeless on the streets and in the refugee camps again met the chaos with loud singing, clapping and prayers.  I am at the Matthew 25 house in Delmas 33. … Here we have set up a triage hospital with more than 1,300 refugees on a soccer field. The people at Matthew 25 have been traveling all over the city trying to figure out what clinics and hospitals are operational, what services they can provide and what the needs are. … Haitians are helping each other in glorious acts of compassion and kindness everywhere you look.  These people have endured so much unspeakable and unnecessary suffering.  I am today, as always, blessed to be walking with them in their struggle to overcome their awful and unfair circumstances, and am even more blessed to be sharing in the strength of spirit that makes each one of them my hero.
Sasha Kramer, January 19: [Sasha refers to a patient, Anderson, who had just had part of his leg amputated at the makeshift clinic at Matthew 25 ] "The doctors asked for a translator so I went and sat by his stretcher explaining to him that the surgery had gone well and he was going to live. His family had gone home so he was alone so Ellie and I took turns sitting with him as he came out from under the drugs. I sat and talked to Anderson for hours as he drifted in and out of consciousness. At one point one of the Haitian men working at the hospital came in and leaned over Anderson and said to him in kreyol "listen man even if your family could not be here tonight we want you to know that everyone here loves you, we are all your brothers and sisters".   … I have barely shed a tear through all of this, the sky could fall and we would not bat an eye, but when I told this story this morning the tears just began rolling down my face. Sometimes it is the kindness and not the horror that can break the numbness that we are all lost in right now."
I invite you to access their full reflections, as well as other stories and information at www.konpay.org