A Year After the Quake, A Familiar Face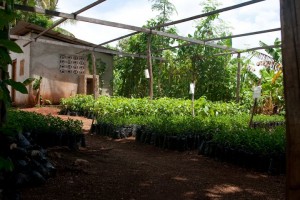 Mandy Boyle
Advertising Sales Manager
On January 12, 2010, a 7.0 magnitude earthquake hit approximately 25 km outside of the Haitian capital of Port au Prince. By Haitian government estimates, three million people were affected by the quake: 316,000 people had died, 300,000 had been injured and more than 1,000,000 made homeless. Now, a year later, Haiti tries to rebuild – but there's a familiar face amongst those providing assistance to the distressed country: Amy Fotta.
During her time at Marywood, Fotta served as the Assistant Director of Campus Ministry.
"Working with [Fotta] is like working with an 'energizer bunny'," Sr. John Michele, I.H.M., M.A., and the current Associate Director of Campus Ministry said. "She is smart; she knows what needs to be done and knows how to get it done.  Amy would do anything to get the word out about the situation in Haiti, and wasn't happy until she thought that people understood it.  She was an absolute joy to work with."
Today, Fotta is the Co-Director of Programs and Development for Konpay, a grassroots, community-based organization that focuses on working with Haitian-led environmental renewal and sustainable agricultural projects.
According to the organization's official website, its mission is to "strengthen Haitian solutions to environmental, social and economic problems by building collaborative networks, sharing technology and expertise, mobilizing resources and supporting innovative Haitian-led initiatives."
"Konpay is about empowering and supporting Haitian innovation to solve the most pressing problems associated with poverty," Fotta said.
There are currently four core programs within the organization's mission: Youth for the Development of Cyvadier (JDS), Food & Fuels Alternative (FFA) Center, Farmer to Farmer program, and the Haitian National Coalition for the Environment (KNAA).
A typical day within Konpay could involve preparing seedlings, tree planting or distribution, managing the community compost at the JDS tree nursery, training youth participants of JDS, overseeing egg collection and distribution at the aviary (at the FFA), meeting with local community representatives to discuss potential partnerships, coordinating a local farmers' association meeting or communicating with environmental grassroots groups in other parts of Haiti as part of KNAA planning.
While most of the operations are currently located in Cyvadier, southeastern Haiti, Fotta spends time stateside, providing additional assistance through communication.
"[My] day involves Skype calls, emails, and phone calls with Haiti staff to get updates and progress reports, which I then communicate to funders and supporters of our programs via reports, emails, appeals, newsletters, Facebook, Twitter, and our Konpay website," Fotta said. "So, basically, I do a lot of reading, listening, asking questions and writing!"
Fotta's connections to Haiti are not new. More than a decade ago, Fotta spent time working on various projects and programs within Port au Prince.
"During that time, I met Melinda Miles, one of Konpay's co-founders," Fotta said. "Since then, we have been friends and I stayed connected with Haiti over the years through her regular updates."
"Ever since Amy Fotta came home from Haiti, she left part of her heart there.  That is the best way I can say it," Sr. John Michele, I.H.M., M.A said. "She loves the people, the culture, everything about it.  She wants to help them, and right now with a family, the best way she sees is to help from an advocacy standpoint."
When the earthquake hit in January 2010, Fotta began volunteering to support the stateside efforts of Konpay's emergency relief, which led to Miles offering Fotta a position with Konpay.
"I chose to accept because I believe in the mission and approach to Konpay's work in Haiti. It is not about charity and going into communities with a mindset of 'we are here to save you and tell you what you need.'", Fotta said. "Instead, Konpay is about empowering and supporting Haitian innovation to solve the most pressing problems associated with poverty."
Konpay, and Fotta, have come a long way since the earthquake. In the summer of 2010, Fotta began working with a team to establish an aviary at the Food and Fuels Alternative Center. That vision became a reality.
"In August 2010, our first 500 chickens arrived at the FFA. Soon after that, we added another 500 chickens. The chickens produce an average of 12 cartons of eggs daily, and these eggs help contribute to improved nutrition and food security in our local community," Fotta said. "With last year in Haiti being so wrought with destruction, tragedy and suffering, I feel like the success of the aviary was a tremendous accomplishment. It helps everyone in the community to keep hoping and working for a better future."
That better future is what keeps the organization going, despite the numerous challenges Haiti faces.
"Unfortunately, the sad reality is that a majority of Haitians continue to live in desperate poverty, in conditions that are inhumane and rob them of their dignity," Fotta said. "The Haitian people want opportunities to meet their own basic needs: food, water, shelter, education for their children, employment, healthcare – the same things we all want here in the United States."
In Fotta's belief, one of the most powerful things a Marywood student can do to support the cause is to think and understand beyond our own comfortable lives.
"Nurture a sense of empathy by becoming more conscious of the everyday challenges that others in our world — including Haiti — endure," Fotta said. "Challenges will continue, putting the lives of Haitians in limbo; however, I am hopeful that despite the turmoil, the people and dedicated organizations – both Haitian and international — will work to make strides in each of their communities. It will be a slow process, but it is possible. That is what grassroots work is all about."
Students interested in supporting Konpay can follow the organization Facebook and Twitter or visit www.konpay.org.