Big House: a wing of Christian living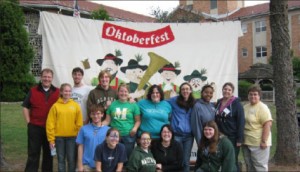 Bob Hannon
Staff Writer
The third floor of Madonna Hall houses a Christian student community called Big House. Big House is entering its third year this year and is still going  strong. According to Father Brian Van Fossen, faculty advisor to Big House, it grows  by about five students per year.
In an interview, Fr. Brian said Big House began as a student prayer group in Loughran Hall. It acted as an opportunity for freshman students to grow spiritually while sharing a community bond. The
community aspect is what makes Big House appealing to students. When these initial students concluded their freshman year, they did not want their living and learning experience to end. So, with the help of Residence Life, they chartered a theme house within Madonna Hall.  Big House's aim is to serve as a forum for spiritual and religious expression.
Mark McKeever, a junior Psychology major and Big House charter member, said that for him, it is a place where he can "investigate and reflect upon [his] spirituality and beliefs with support and comfort." He went on to say that nobody judges him there. It is a community of friends. Victoria Clarizio, junior Social Work major, was also a charter member of Big House. Clarizio said that Big House is a place where she is "supported in [her] faith and beliefs by a great community." She said that she loves knowing that if she ever has a problem, there is always someone available with whom she can speak.
A sense of community is a major theme in this group. Although Big House is mainly a Christian Living Community, Fr. Brian says that it serves not only to inform students of Christianity but to help them grow spiritually. It does not exclude anyone due to differing religious beliefs. Anyone of any religion is welcome to join. For the future, residents hope that Big House maintains its sense of community.
Clarizio said, "The community is definitely transitioning right now as many new people are coming in for next year and a few of the upperclassmen are leaving. Eventually, it would be a great to have a Christian Living Community for freshmen in either Loughran or Regina." Most of all, the students involved in Big House would like to see the community grow.
So, as Big House enters its third year, students should be aware of its presence. If anyone would like to grow spiritually, Big House is the right place.