Nets for Nets 2011: A successful fundraiser for Malaria Nets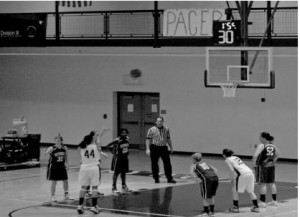 Lisa Piccolo
Peace and Justice Editor
At the men's and women's basketball games on February 7, 2011, money was raised in order to send Malaria Nets to other countries through the "Nets  for Nets" program of Catholic Relief Services.  Andrea Fritchey, a sophomore Marywood student, was one of the students who helped out for this fundraiser. "My part in 'Nets for Nets' was to work alongside Sr. John and the other volunteers to collect monetary donations for Catholic Relief Services to provide malaria nets to Africa and other countries in need," Fritchey said.  "We stood at the entrance to the gym with actual nets (the small kind used for fishing) and asked people to donate as they entered for the basketball games."
According to Sr. John Michele Southwick, the Associate Director of Campus Ministry, the donations from the game counted up to $700. She said that these efforts would help buy around 110 nets.
Victoria Clarizio, a junior Social Work major, visited Africa this past summer. She gave a firsthand account of why these nets are so important.
"Once someone contracts malaria once, they usually get it every year like the flu.  So preventative measures are very important," Clarizio said. "I was actually there during the peak of malaria season and every other person who came into the health clinic I volunteered in had the disease.  Malaria nets would help lower those numbers drastically."
For more information on the "Nets for Nets" program, visit the Catholic
Relief Services Website.