Community shines a light on lung cancer
Community and university members gathered to show their support for survivors and victims of lung cancer at the Shine-a-Light event in early November.
This international event, held on Nov. 2, brought together communities to raise awareness and support for people affected by lung cancer.
In a video shown at the event, Diane Legg, lung cancersurvivor and founder of Lung Cancer Alliance (LCA), said the annual vigil is "a call to action for lung cancer."
This was the third year the physician's assistant program and Pre-Physician Assistant Society from Marywood and the oncology program from The Commonwealth Medical College (TCMC) co-sponsored the vigil. Dr. Karen Arscott, clinical associate professor and faculty adviser for the event, is a survivor of lung cancer. She spoke about her personal story.
"The doctor said, 'You are my miracle because you have survived five years and only 20 percent survive,'" she said. Dr. Christian Adonizio, speaker and medical oncologist specializing in lung cancer, spoke about the effects of lung cancer and his hopes for the vigils.
"I hope for a day when we don't have to have vigils for lung cancer," he said.
There has been continual advancement in diagnosing and treating lung cancer. Screening tools for lung cancer and the chemotherapy is tailored to the individual patient.
Those that were personally affected by lung cancer spoke about the influence lung cancer had in their lives. Many attendees honored their fathers, aunts, wives, and even themselves.
Dana Thomson, student coordinator for the event, wanted the community to come together to raise awareness on lung cancer.
The main stigma for lung cancer is that it is a "smokers disease"; however, the people at the vigil said that lung cancer can happen to anyone and it is no one's fault.
"There are a lot of stigmas that are associated with other cancers. So we're going to try and break that stigma. No one deserves it no matter what," she said.
Sheila Ross, liaison for LCA, gave final words on the fight against lung cancer.
"Lung cancer is the biggest cancer killer among everybody. We're going to war. We're going to change this," she said.
About the Contributor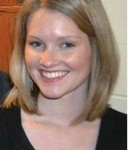 Molly Boylan, Editor-in-Chief
NAME: Molly Boylan
YEAR: 2013
MAJOR: English; Journalism (minor)

ABOUT: My first semester at Marywood I was unsure about what career I wanted to pursue...