Dean Foley to retire after 34 years at Marywood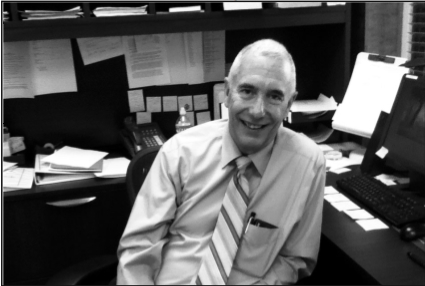 After 34 years at Marywood, the Dean of Liberal Arts and Sciences, Dr. Michael Foley, recently announced that he will retire at the end of June.
Foley graduated from Eastern Illinois University in 1969 with his bachelor of arts degree in German and Philosophy, received his master's degree in Philosophy from Southern Illinois University in 1971, and received his doctorate in Philosophy from Southern Illinois University in 1973. Later on, he decided to persue his masters of public administration degree from New York University in 1982.
Foley began his teaching career in philosophy at College Misericordia where he taught for four years before moving to Marywood in 1980. Here, he has served as the philosophy department chair for 10 years and as chair of the Honors Program for nine years.
"The classroom for me was the most comfortable and it was my fit," Foley said. His said his favorite class to teach was a tie between the "Philosophy of Law and Society" and "The Philosophy of Women."
After 30 years of teaching philosophy in the classroom, Foley decided he needed a new challenge. When offered the position of Dean of Liberal Arts and Sciences at Marywood, he took it. He's been at that post now for the past four years.
As Dean, he is responsible for budget management, faculty development, and various academic programs. He also assesses the teacher evaluations by students each semester.
Foley said his motivation to retire is actually his ability now to do so. "I can actually afford to retire," said Foley.
But, Foley said he's also looking forward to some of the other benefits of retirement. "I want to travel. I just want to be able to pick up and go wherever I want, whenever I want without asking for days off of work," Foley said.
Foley plans on moving to Raleigh, North Carolina to be closer to his family and to get out of the cold NEPA weather to enjoy traveling and recreational activities. But most importantly, retiring will allow him more flexibility to travel and spend time with his grandchildren.
Foley's assistant, Bev Mizanty, said she will miss working with Foley. "I'll miss his humor, his ability to handle all situations with compassion, his tremendous caring ways, and his knowledge. He will be greatly missed, not only by me, but by the entire Marywood Community," she said.
Marywood is currently looking for an experienced individual to take over the position of the Dean of Liberal Arts and Sciences who is accomplished and has experiences in teaching, scholarship, and service. The new Dean will be announced by the end of the semester.
As Foley starts a new chapter in his life, he had this piece of advice to offer to students about to enter new chapters in theirs: Be flexible, and always look for new opportunities because, "you never know where life is going to take you."