Club Spotlight: Volunteer Club in Action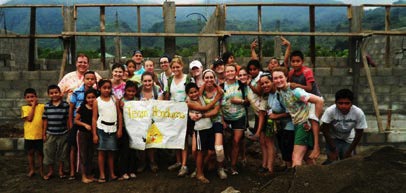 Volunteers in Action (VIA), a special interest club at Marywood University, is looking for fresh faces to join their efforts in giving back to the community.
Various projects are completed both on and off campus.VIA meetings are held every other Monday throughout the academic year. Current members encourage all those interested to attend. The meetings allow students to gather together, learn and sign up for upcoming service opportunities, and help with future event planning.
Jennifer Rojek, graduate student in Counseling, participated on the Honduras service trip last year. "I never knew helping others with their lives would change mine so much. It's important to to acknowledge that just as people in the U.S. need help, people need help all over the world as well," said Rojek.
In 2011, some of the VIA service projects included the Thanksgiving Adopt-A-Family Food Drive, the Kidstuff Carnival, and a Zumbathon sponsored by the Autism Speaks Foundation.
VIA President Claire Werner said that VIA is open to anyone interested in service, even those who have never participated in projects before. "We have opportunities for every interest: animals, the elderly, children, hunger, and homelessness, you name it. Meetings are extremely informal and you can sign up for as much or as little as you would like. This is your chance to give to those who truly deserve it and make a difference," Werner said.
The next two VIA meetings are October 8 and October 22 at 9:00 p.m. in the Fireplace Lounge, Nazareth Student Center.
The 2012-2013 student officers are as follows: President: Claire Werner, Vice President: Valerie Hughes, Vice President for On-going Service: Lauren Olsen, Secretary: Andrea Fritchey and Treasurer: Jessica Manning.