Campus community spreads cheer during holiday season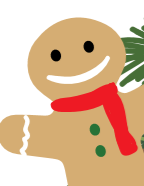 Marywood's campus is bringing cheer to others this holiday season by serving others throughout the community. Clubs and classes are organizing events and fundraisers to benefit the community during the holiday season.
CMYKlub makes cards for the elderly
Members of the CMYKlub, Marywood's graphic design club, are making cards, decorations, and ornaments for residents of a local nursing home.  Although nothing is set in stone, the club hopes to bring their handmade crafts to the Butler Valley Manor Nursing Home in Drums, Pa.
The club wanted to bring cheer to people who may not always get the attention they deserve. The project began in November, and Christmas will not be the only theme on the cards. Rather, the club is making Thanksgiving cards and cards that acknowledge other traditions such as Hanukkah. The club will be doing illustrations, digital illustrations, handmade cut paper designs, painting, and other mediums.
"I feel this helps because the residents always appreciate any time someone gives to them," said president Ashley Kujat, junior graphic design major. " I think it's nice to make someone's day or holiday season a little bit better. The staff really appreciates this, too. They really care about their residents and the donations are helpful."
The club is making all of the cards, decorations, and ornaments in their free time and during their club meetings. Members of the club will deliver what they have made and spend time with the residents.
"Having the opportunity to brighten someone's day is fantastic in any way, but being able to brighten the day of a patient in a nursing home is one of the greatest pleasures for me," said Meghan McClarey, sophomore graphic design major. "They don't always get special gifts like this, especially from strangers, and being able to know that my own work is going to make someone happy is so satisfying… It makes me proud knowing that I have an opportunity to make someone's holiday season better for them."
Members of the club hope to deliver all that they have made sometime in the middle of December.
Architecture class makes toys for local children        
The freshman foundation design students have their very own holiday workshop. Members of two classes will create toys for the children at the The Fricchione Day Care Center, which is located on campus. About 32 toys will be created.
The project will double as a learning project and community service project. Students have already started their sketches. Building the toys will take place after Thanksgiving break.
"This project is not as in-depth as what they've been doing," said Stephen Garrison, assistant professor of interior architecture/design. "But, it shows the students different possibilities and to think about the user. It changes to a smaller scale and makes it more one-on-one."
The toys will be wooden and must move in some way or come apart, like cars. There will be no toys that look like weapons and no fighting toys.
"It is a way to give back," said Amy Moren, freshman interior architect major. "We all see them on campus and it makes us so happy. It is something meaningful and special we can do for them."
Campus Ministry hosts Jingle Bell 5K
Marywood will host a 5K race on Saturday, Dec. 7. This is the second year for the race and will benefit alternative break service trips.
Registration is available the day of the race for $20 and children 14 and under can register for $8. Participants are asked to dress up in holiday clothing. There will also be games such as "Pin the nose on Rudolph" and face painting. Children can also get their picture taken with Santa.
The race will start and finish on Adams Ave. and the course will be shaped like Santa Claus.
"The race benefits alternative breaks and brings the community together," said Jessica Szumski graduate student for school counseling. "This takes place around the holiday season so students can take their service trips."
Campus traditions seek community involvement
Holiday traditions remain prevalent throughout campus. The Christmas Tree Lighting will be held on Dec. 4 in the Liberal Arts Center. A wide array of ornaments will adorn the tree and refreshments will be served. The Chamber Singers will also be performing.
On Dec. 8, Marywood's longest tradition, the Christmas Mass, will be held at 4:30 p.m. in the Marian Chapel. Following the Mass will be a holiday dinner. All members of the campus are welcome.
About the Contributor
Autumn Granza, Editor- in - Chief
Autumn is the Editor-in-Chief for The Wood Word. She has a passion for photography and hopes to one day mold her love for journalism and photography...