Student Spotlight – Josh Carey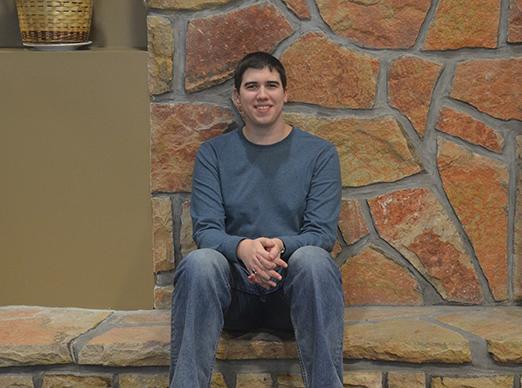 Josh Carey is a senior Math major with a music minor graduating after the 2014 Fall semester. He participates in Big House, Men's Group, Wind Ensemble, Campus Choir, and various other activities and service opportunities. He has been writing his own Mass setting, and doing research for both his Honors Thesis and separate academic studies.
Q: What do you plan on doing in the spring?
A: During the spring, I'm going to try to work a little. I'm going to see if I can tutor some high school and middle school students, and I'm going to offer to be organist for any local churches that need people on Sundays or for funerals or services. I'm mostly going to relax though and use the time to unwind after seven semesters of college and reset myself before delving into the uncharted waters of graduate school. I'll have time to explore my hobbies and things I can enjoy that aren't determining my future.
Q: What do you hope to concentrate in at the graduate level?
A: I'm applying to Ph.D. programs that will help me get my Masters along the way to teach at the college level. At some point, I'll decide my concentration in the Math field; right now I love the field of geometry. There's no telling what I'll choose because the first few years are exploring so I may find something on the opposite end of the spectrum.
Q: What have you done as an organist and as a musician on campus through the years?
A: I've always been very interested and passionate about music. I've been very excited with how much music I've been allowed to take part of without majoring in it. I have the music minor, which gave me a lot of classes that helped me round out my abilities. I plan to do a recital in the spring. I've been in the wind ensemble playing alto sax which has been a lot of fun. It's also been a lot of fun with the campus choir to make music at a professional level and to explore the field as much as I love to. As far as being an organist, I've had the opportunity to fill in at a lot of beautiful churches in the area and to go to places I never really would've gone to before. I've worked at a couple different church jobs, and they've really helped give me experience in the real world of being a church musician.
Q: You've written your own Mass, that is, your own collection of music for an entire Mass. Can you tell me a little about that?
A: Recently I've been composing some of my own music. I wrote my own setting of the Mass, which I kind of wrote in honor of and dedicated to St. Alphonsus Liguori, who's a big patron saint for Marywood and for the I.H.M. Sisters. That was a lot of fun because I haven't really studied composition a lot but it gave me a chance to roll up my sleeves and attack it to see what I'm capable of. I wouldn't consider myself someone who's going to make my living on this but I realized I have more ability for it than I give myself credit for. There have been people for years giving me advice and help and without them none of this would've ever been possible.
Q: What makes your Mass setting different or unique compared to what people may be used to?
A: I really tried to be very traditional with my setting while trying to keep it interesting. I wanted it to be simple. I wanted it to be accessible to everyone in the church: the choir, the congregation, everybody. It doesn't take liberty with the wordings. When the new words for the Mass were released, and even when the old mass existed, some of the music took different interpretations with the wordings, which is good because sometimes they're really pretty, but there are people that come every week that sometimes forget and don't know the different versions. Then they can't fully participate.
Q: How excited are you to be able to be finishing up your Honors Thesis and your own academic research on the side?
A: I'm really excited. I'll be even more excited when I know for sure when I'm finishing. There's been a lot of little struggles along the way that have held things back, and with everything else going on, finishing early and such, it's limited the amount of time I could spend on it. I recently had to step back and look at the big picture and get in there and see what was or wasn't working in the projects and I was fortunate enough to fix something that prevented me from moving forward. I'm getting ready to finish up the last half of the research and once I get that done, writing it and presenting it will be the icing on the cake. From there, it'll be smooth sailing. That's the cool thing about math research. You're not worried about citing things, sometimes you have a source or two, but for the most part you're just hacking away. You sit up and type it up and then you look at it, rip it apart, and just keep doing it over and over. All the research is yours; that's the part I love the most. I think that's why I really love the subject and the research and everything about it.
Contact the writer:
[email protected]