PSC holds Anxiety Screening Day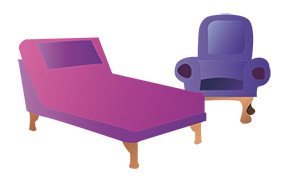 On April 9, Marywood's Psychological Services Center (PSC) offered free, confidential anxiety screenings to the public and to all ages.
These open screening days allow the PSC the opportunity to inform the public of their purpose, as well as give students an opportunity to talk with student-therapists about anything they may need help with, explained Daniel Huy, a grad student in clinical psychology.
"I think we all forget that anxiety is normal, and it could even help us perform and behave as adaptive humans. We are here to help students find ways to cope with anxiety in appropriate and healthy ways," said Huy.
Giovanna Steinhaus, a Psy.D. student, said having these larger events helps to encourage students to approach the PSC.
"It helps spread awareness," said Steinhaus. "It brings students here to be more comfortable with a larger crowd, rather than coming alone."
Steinhaus also addressed how anxiety is wrongly seen as "being crazy."
"It doesn't mean you're crazy [if you have anxiety]. The word is just kind of thrown around. It doesn't mean you can't be successful," said Steinhaus.
Deepa Patel, Psy.D. student, also spoke about the stigma of seeking treatment and how anxiety is sometimes misinterpreted.
"[Days like today] decrease the stigma of anxiety disorders, rather than just saying come in if you want," said Patel. "It's not just anxiety either, it is also panic disorder, OCD, and others."
Information for the community about the PSC can be found at the PSC Marywood Page.  The PSC can be reached at 570-348-6269. Students seeking treatment can visit the Counseling/Student Development Center (C/SDC) webpage or call them at 570-348-6245.
Contact the writer: [email protected]