Group Spotlight: Pour Four
A musical group named Pour Four has become well-known on campus over the past year for being the first and only saxophone quartet at Marywood.
Kelsey Hopkins, a sophomore arts administration major with a music primary and art secondary, Taylor Morgan, a freshman music education major, Harlow Alexander, a sophomore music education major and Dr. David Romines, the director of bands and a departmental co-chair, form Pour Four.
How it began
The group initially formed a year ago in the spring semester of 2016.
"Our freshmen year, there was talk of starting a sax quartet because so many freshmen sax majors came in," said Alexander.
According to Alexander, there were originally three people who wanted to form this quartet after a suggestion made by David Jumper, a jazz professor at Marywood. These three were Hopkins, Alexander and former member, Ross LeSoine.
Alexander explained that Romines was happy to fill in as the needed fourth member of the quartet. Since Romines' main instrument is the saxophone, this made him a great fit.
After they decided to form the quartet, the group began to rehearse once a week. In the beginning, it was just for fun and they played pop music and some classical pieces. However, over time, the group started to grow and became known around campus.
About Pour Four
Pour Four plays a wide variety of music including movie themes, funk and classical pieces. Their repertoire features music from The Simpsons, Frank Sinatra and Bach.
The group found inspiration for their name after one of the first classical pieces they began to work on: a quartet piece by the famous French composer Eugène Bozza.
Pour Four added a new member, Taylor Morgan, this semester as a result of original member LeSoine becoming too busy to remain in the quartet.
According to Alexander, it wasn't a difficult choice for the group to add Morgan because she had been the photographer for the group last semester.
Morgan was very glad to become a new member and is looking forward to performing with the quartet.
"I was so excited about it," said Morgan. "I still am."
The members said that they like being a part of the quartet because, according to Alexander, "it's just a lot of fun."
"It's always made me laugh," said Alexander. "Sometimes, as a music major, going to ensemble rehearsals could be a drag because you have a three-hour rehearsal, but this is just for fun."
The group has already performed at general recitals, where music majors have to perform as part of their major, as well as at Flapjack Fest and a Northeastern Youth Wind Ensemble concert.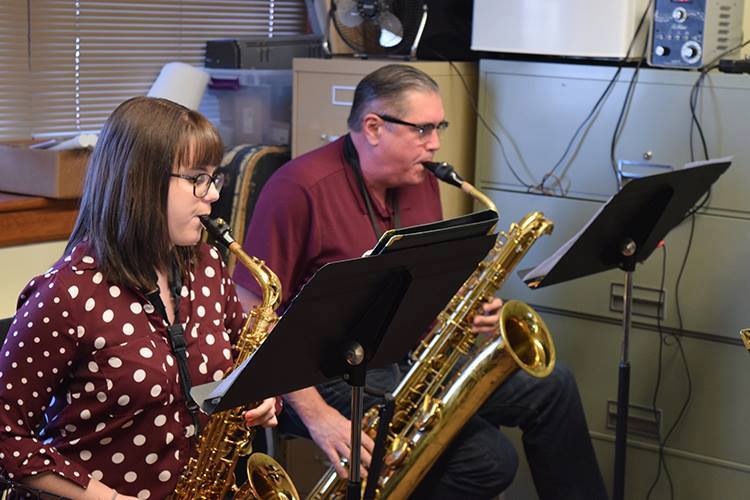 Pour Four's future
As for the future, they intend to continue playing at Flapjack Fests and also plan to perform their own recital on campus this semester.
They also plan on doing recruitment for Marywood by going to different high schools and performing for students.
Additionally, they are looking forward to potentially traveling and playing more gigs. The group hopes to attend local or national festivals and wants Pour Four to continue even after they are no longer Marywood students.
"I hope that this can continue after we graduate, because it would be really cool to keep Pour Four going," said Alexander.
As for future students at Marywood, the group wants to remind them to never limit their potential when it comes to starting groups like this on campus.
"Think outside of the box," said Hopkins. "This was something that didn't exist, and now we're here."
"If there's something you want that this school doesn't have, that doesn't mean it can't happen. We wanted a sax quartet, so we made a sax quartet," Alexander added. "The opportunities are endless."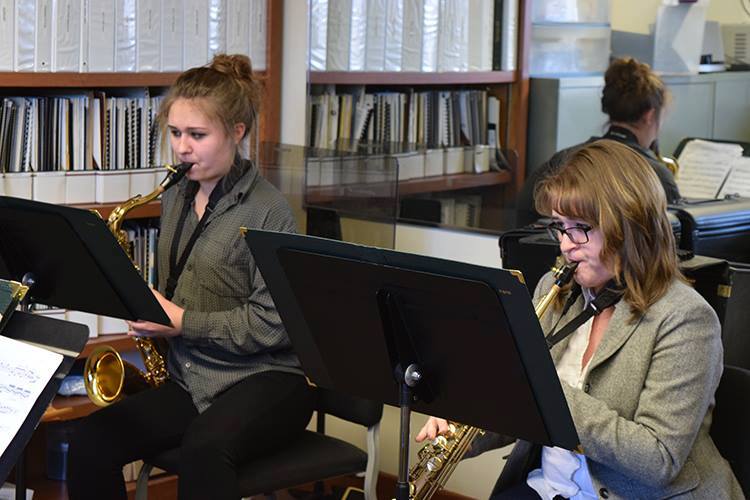 Contact the writer: [email protected]