Story Slam returns to Marywood
Students gathered in the Fireplace Lounge in Nazareth Hall for Story Slam, where they heard the words of their peers from 9 p.m. to 11 p.m. on Monday, Feb. 27.
At this event, students were able to tell any true story from their lives for five minutes in front of a panel of judges.
The students had to tell their stories without any notes and they had to relate to the theme of the night: chaos.
The three judges were Dr. John DePoe, associate professor of Philosophy, Deirdre Spelman, director of field education for Scranton and Central PA programs of Social Work, and David Isgan, academic coordinator of the Physician Assistant Program.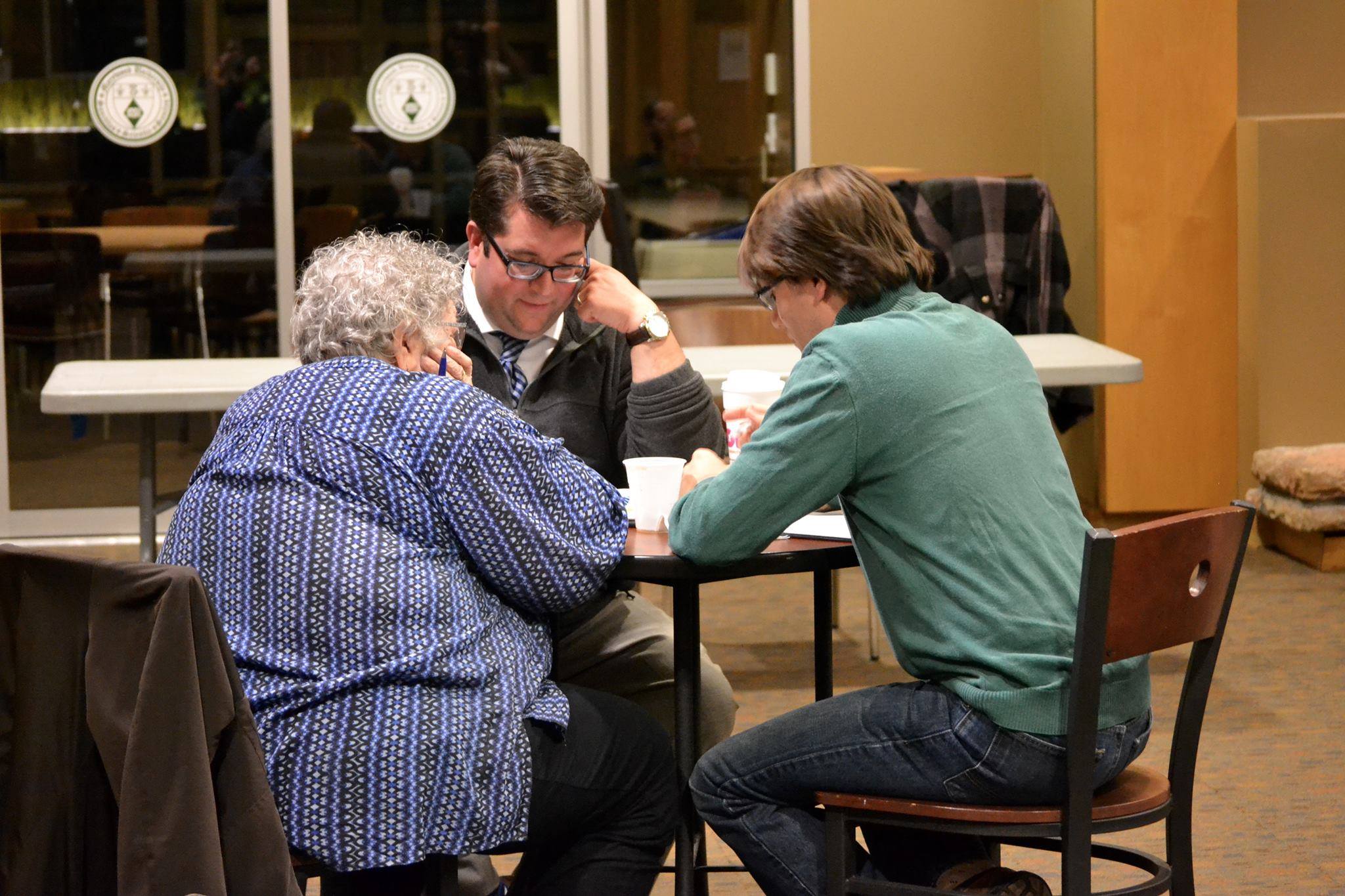 Attendees were able to listen to storytellers while enjoying a variety of refreshments, such as soda, chips and homemade fudge and cookies.
There were two types of storytellers —those who had been practicing their stories in preparation for this event and wild card students who decided to come up and tell a story on the spot.
The students who had prepared to tell their stories were Senior Marketing Major Travis Murray, Sophomore Digital Media Major Sam Dauenhauer, Junior Broadcast Journalism Major Daniel Smith, Junior English Secondary Education Major Matthew Murphy and Junior Digital Media Major Terry Thompson.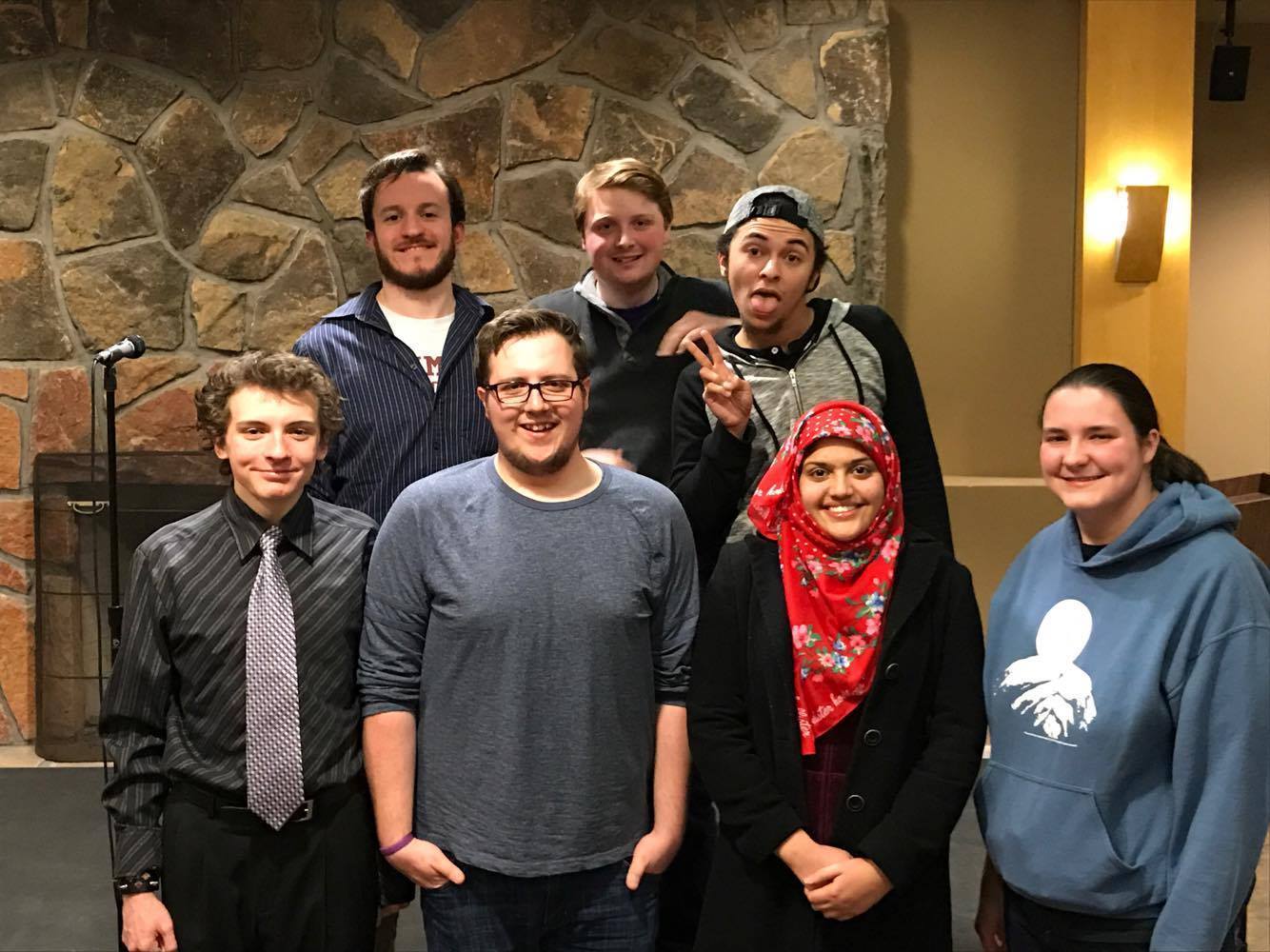 The two wild cards of the night who decided to tell their improvisational stories were Freshman Music Education Major Theresa Staerker and Sophomore Nutrition and Dietetics Major Salma Ahmed.
Ahmed won the event with her story that described how everything went wrong at a cousin's wedding.
Ahmed said she had decided to go up and tell a story because Junior English Major Amanda Duncklee encouraged her to do so.
Ahmed said, "I am glad the judges liked my story. Everyone's was really good. I was surprised to win."
All of the stories contained a wide range of topics, from a cat in a wall, pirate ships and chickens, being a king, "really chill frogs" and having many flight delays on the way to Chicago.
Duncklee, the host for the evening, and Marywood's Information Literacy Librarian Annette Fisher worked together to host the event.
Duncklee said that she was a participant of the first Story Slam at Marywood during her freshman year, and she even won the event. She wanted to bring Story Slam back with the help of the library services.
Duncklee said she enjoyed this event because "there's something very wholesome about a group of people coming together and sharing their stories." She also said that she was "really proud of everyone who decided to speak."
When discussing her story, Staerker said, "I thought it would be fun—nothing is more chaotic than a flight that took thirteen hours instead of five."
Ultimately, Duncklee said she "considered it a successful event."
"We need more events where we gather peacefully because it is gratifying to take a step back and listen to a story by the fireplace," said Duncklee.
Contact the writer: [email protected]