Hi, Have You Met Feety Pajamas?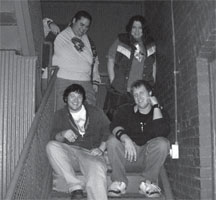 By Roman Flores
Staff Writer
That's right, "Feety Pajamas!"  No, that is not the name of the newest clothing line out by OshKosh B'Gosh or a promotion for Babies "R" Us. "Feety Pajamas!" is one of the little known bands to come out of Marywood University.
Senior and music education major Theron Roberts, Jr. met up early in the 2005-2006 school year with senior Roman Flores of Mariachi Tequila.   "We started jamming together in our dorm with an acoustic guitar and a trumpet about once a week," states Roberts.  "Most people didn't mind the noise pollution because we were never very loud when we first started out.  Noise wasn't really an issue until we started practicing while being 'plugged in.'  I brought the little guitar amp I've had since I was seventeen and one of my old electric guitars from home, Roman lost the mute and we started wreaking havoc on the ears of our neighbors and the admissions crew downstairs on Saturday mornings."
As the fledgling band, "Feety" began to build a small repertoire, they started to play a few acoustic shows on Marywood's campus.  "Our first public performance was actually one of the Music Therapy Club's 'Open Mic Nights' back in November of 2005.  It was just me, Theron and our instruments in front of a fair number of our fellow classmates," recalls Flores.  "I remember how nervous Theron was playing his own music the first time on stage.  I think there's actually still an old picture floating around on Facebook somewhere of me pulling the mic up closer to him because he was being too timid to sing full volume in front of a crowd when we first started."
Thus, the Feety Phenomenon had planted its roots and was beginning to blossom.  At this point you might begin to wonder how two people can constitute a legitimate band.  It was around this time that Feety began to wonder the same thing.  After a small stint with another Marywood University student, Roberts called up an old friend, Theresa Lazzari of Wilkes-Barre, and eventually Feety gained an awesome drummer.
"Theresa and I used to jam together a few years back so I thought of her when Roman and I started looking to recruit new talent to get a full band set up going," said Roberts.
"Yes, of course we looked for a bassist, do you think we're trying to be like The White Stripes or something?" jokes Flores.  "We tried out two of them actually, friends of ours from the music department, but they weren't able to commit due to their work schedules and other obligations.  It just wasn't in the cards back then.  Of course we had no need to fear, Stephen Kane was here,' said Flores.
Stephen T. Kane joined Feety Pajamas! just two months ago and his trombone added some depth to the then bare bones operation.  Now with the possible addition of a new bassist, the Feety Phenomenon is ready to go full swing.
If you'd like to find out more about Feety Pajamas! check us out on Myspace at www.myspace.com/feetypajamasband and our Facebook group titled "Feety Pajamas!"  We will be playing a Battle of the Bands on August 19 at The Masquerade in Olyphant; the information can be found at either of those web locations.
As for how we got our band name…that's another story for another time.