NEPA AAF Hosts ADDYs, Sponsors Speaker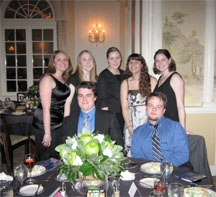 By Mandy Boyle
Advertising Sales Manager/Entertainment Editor
On February 20, members of the advertising communities gathered together in what would be yet another successful Northeastern Pennsylvania ADDY award ceremony. Hosted this year in the beautiful Westmoreland Club in Wilkes-Barre by the NEPA American Advertising Federation Chapter, the annual ADDY Awards ceremony is a place for up and coming professionals as well as established advertising agencies to display their finest freelance works and campaigns. Styled in a theme that celebrated the rich musical history of The Beatles, "ADDY ROAD" was a celebration of timeless music, great food, good company, and the work of dozens of talented people who filled the room with such style, life, and pizazz. Amidst the awards and hilarious jokes by co-host Dan Simrell, attendees also enjoyed bits of trivia about The Beatles in addition to clever responses submitted by contestants. It's clear to see – the ADDYs are a place to have fun if you're in the advertising industry.
Several prominent members of the Marywood community were present at the event, including the entire PRSSA chapter, who chose to attend the event as a networking opportunity. The PRSSA chapter just recently celebrated its success as being recognized amongst hundred of college chapters for its best practices in a recent newsletter – a feat that is akin to that of the talented student designers that were honored during the ADDY ceremony.
Renowned for the quality of work often showcased, the ADDY Awards is an occasion to recognize exemplary student talent.
Representing Marywood University, several students won gold, silver, and bronze ADDYs, showing yet again the caliber of talent present within the art and graphic design departments.
Jessica Meoni, a first time entrant, walked home with three bronze student ADDYs for her work with The Vintage Theatre of Scranton, ADAA Week, and Unbound Culture Magazine. Christian Baloga also won a bronze for work with Toxic People, an editorial design.
Kathryn Lagonegro walked home with a silver for the New York Underground Film Festival in addition to Anna Mizer, who won for her work with Saints and Sinners and Shannon Zukoski got hers for a self promotional design. Joanne Taffaro and Joey Zarcone both won silver in their pieces for the NY Underground Film Festival, with Zarcone also leading with a silver for a Beatles commemorative stamp and a bronze for a Disco Bloodbath book jacket.
A team effort struck silver for Mike Hurse, Shannon Zekoski and Anna Mizer on their work for a Graphic Artist Guild campaign, but the night really belonged to Jessica Confer, who brought home two golds for her Songs for Stairwells CD case design and a Buy Nothing Day Promotion, as well as an ADDY for Best in Show. Both designs proved to be a hit with both the judges and the ad club members in attendance. Not to mention, Confer also photographed the event on behalf of the NEPA AAF.
The NEPA AAF, according to its official website, is the only area organization dedicated to promoting "greater effectiveness in the use of advertising and fostering higher standards of practice in advertising and public communications." Affiliated with the national American Advertising Federation, the NEPA AAF is one of hundreds of local chapters that bring together professionals and students alike to further advance the practices of communication through advertising, media, and related fields.
On Friday, April 3, the NEPA AAF will be sponsoring yet another exciting event in the Burke Auditorium of Kings College that both students and professions don't want to miss. Beginning at 12:00 PM, best selling author Karen Salmansohn will spotlight a speaking engagement that will highlight her main goal: "to wake up sleepy minds, hearts and spirits…spread positive propaganda throughout the land." As a recognized expert on happiness, Salmansohn has been seen on The Today Show, The View, CNN, CNBC, WB, ABC, as well as various publications including The New York Times, Business Week, People, In-Style, Self, Cosmo, and the Chicago Tribune. If you're looking for an event that could spark you on the right path to happiness, this one is it.  To set your reservations for the event, email [email protected] or call 570-239-1875 by March 31. Tickets are $20 but are free to any college/university faculty, staff or students with a presented ID.