Feety Pajamas Play Warped Tour 2009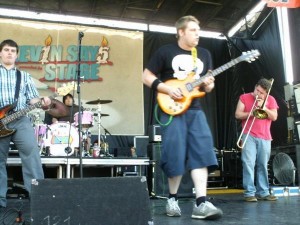 By Brittany Whittemore
Staff Writer
A local band that was started by students and alumni from Marywood played Warped Tour 2009 in Long Branch, New Jersey this past summer.  The six members of this ska/punk/jazz band, or "spazz" band, include lead singer and guitarist Theron Roberts, rhythm guitarist and back-up singer Steve Kane, trumpet/violinist and back-up singer Roman Flores, drummer Theresa Lazzari, and bassist Dan Miller.
In an interview with Dan Miller, I learned that the band won a contest, which was sponsored by East Coast Independence, competing against sixteen other bands.  Miller said they thought they had a decent shot at winning and were anxiously waiting for the polls to close when they were 100 votes ahead of the competition.  The band celebrated when they found out they were they had won with over 250 votes.  This would be there first time attending and playing at a festival so they weren't sure what to expect.
When arriving to Warped Tour, the band found out they were located at the Kia Stage which was at the entrance of the festival.  Miller said one of the best parts of the experience was when they first started playing, kids started gathering around the stage and started a "skank" pit.  Miller emphasized how corporate Warped Tour was and that all of the bands were sponsored.  He even said that he grabbed a Monster can that was provided for them and realized after opening it that he was drinking water that was sponsored by Monster.
They also weren't familiar nor were they into the scene of Warped Tour.  Miller stated that there was a lot of hardcore bands playing and the fans weren't really their style.  Overall, the band thought it was a great experience.  Some of the members of Feety Pajamas got to meet Flogging Molly, Big D and the Kids Table, and Gas Light Anthem.  The band is coming out with a new CD that they've been working on over the summer.  Dan Miller says that the band is currently "on hiatus" because Roman Flores is currently located in California. To keep up with the latest news, you can find the band on MySpace, Facebook and Twitter.  They will be selling their CD around campus when it comes out (hopefully soon) and hope to play some for shows in the future.